I resolutely refused to follow the studio's orders in such matters and dressed as I pleased. I wore trousers most of the time.
—Marlene Dietrich (1901–1992)
A defining scene in the film Destry Rides Again (1939) is when Frenchy (played by Marlene Dietrich), a rough-and-tumble saloon singer, wins a cowboy's pants in a hand of poker. As the humiliated man exits the saloon in his underwear, it's clear that Frenchy is the one in control. Though she doesn't actually put them on, Frenchy obviously is the one "wearing the pants" in the scene.
Destry Rides Again was a big hit for Paramount Pictures and revived Dietrich's failing career. All this was not without irony—for years, Dietrich had been chided by Paramount executives about her real-life penchant for wearing trousers. After the success of Destry, studio executives, who'd long been uncomfortable with the "negative" attention Dietrich's tweed suits and leather jumpers picked up in the press, encouraged the star's androgynous look, realizing its tremendous sex appeal and box-office draw.

Though she perhaps wore them best, Dietrich was hardly the first woman to put on a pair of trousers. Throughout history, select women have worn pants despite societal conventions against this dress-code trespass. What is regarded today as a simple daily choice for most women in the Western Hemisphere—skirt or pants?—was, not long ago, a scandalous question. Women wore skirts or dresses, and men (with the exception of clergy and Scottish Highlanders) wore pants. The fact that trousers are no longer taboo for women is the result of a long process led by trailblazers who fought, sometimes with their lives, for the right to put on their pants, one leg at a time.
For some, donning pants was an act of subversion and rebellion; for others, it was a necessary part of getting a job done. Consider one of the most famous of all cross-dressers, Joan of Arc, whose preference for men's clothes sealed her death sentence. Joan wore pants for comfort while horseback riding, sword-fighting and traveling, but her trousers, which had laces and hooks that attached her pants securely to her tunic, also protected her from being raped by soldiers and prison guards. Though she defied gender norms by leading troops in battle, it was her cross-dressing that authorities cited to officially denounce her as a heretic and justify her execution.
For many female soldiers, pirates and other adventurers throughout the ages, wearing pants was imperative. These cross-dressing women had to pass as men or face great danger if their true sex were discovered. In the seventeenth century, London-born Mary Read reportedly posed as a boy to gain financial security, and later signed on to a ship's crew as a "man." Further seafaring adventures found Read passing as a man, and only revealing herself when she fell in love.
For many other women, the act of putting on pants was liberating in and of itself, as evidenced by the dress-reform movement of the 1850s. Mid-nineteenth-century Western women's fashion—tightly laced corsets, high-heeled shoes, heavy petticoats and long dresses—greatly restricted movement. In 1851, Elizabeth Smith Miller (1822–1911), a cousin of social activist Elizabeth Cady Stanton, developed a new outfit that combined loose skirts cut four inches below the knees with "Turkish trousers" that reached the ankles. When Stanton saw her cousin's astounding new ensemble, she informed her friend, Amelia Jenks Bloomer (1818–1894), and inadvertently initiated the first wave of the dress-reform movement. (And wide, loose trousers worn under a skirt, even as underclothes, became known as "bloomers" due to Bloomer's promotion of the garments.)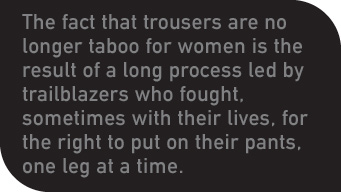 Although Amelia Bloomer and other feminists emphasized that these clothes made women feel more comfortable, society was not ready to change its fashion focus from how women looked. Even female athletes were often required to perform in starched clothing and corsets, until rabble-rousers such as French flapper Suzanne Lenglen (1899–1938), who insisted on baring her ankles and forearms on Wimbledon's court, refused to be hemmed in. While Lenglen still wore a skirt, she cut it short (which at the time meant just above the calf) and refused to wear tight undergarments. Not only did her wardrobe change assist her game (she won Wimbledon every year but one from 1919 to 1925), it also sparked a trend toward comfort and maneuverability. By the 1930s, another tennis player, Alice Marble, was causing controversy by wearing shorts on the competitive courts. Newspapers at the time were also criticizing Olympic fencer Joanna de Tuscan for the custom-made pants she wore to allow for more physical expression.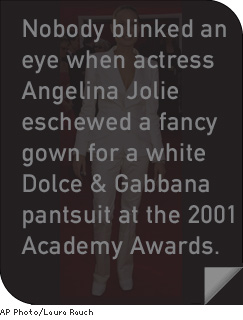 By then, "new women" such as Amelia Earhart and Marlene Dietrich chose pants and male styles more as a statement than for function. For them, trousers projected an air of independence and equality. Earhart wore her hair close-cropped and made her landmark flights in both dresses and pantsuits. In photos, she looked fresh, clean, all-American and androgynous. Like Dietrich's look, Earhart's style started a fashion craze among ordinary gals who wanted to be "new women" too.
World War II brought even more American women into formerly male-dominated spaces, as women took on factory, military and other work to support the war effort, often donning workpants à la Rosie the Riveter to get the job done. And although the postwar era was marked by a return to traditional gender roles, many women sported dungarees and capri pants during leisure time.
The Women's Liberation movement of the 1960s and '70s, coupled with the growing American penchant for leisurewear, helped to convince people that women are entitled to the same privileges as men, and that lifestyle (clothing included) should be a matter of individual choice for both genders. Since then, women have popularly appropriated so-called men's clothing as a symbol of empowerment and fashionable irreverence. When actress Diane Keaton (1946–) played the eccentric Annie Hall in the eponymous 1977 movie, her performance was almost overshadowed by her style, which included men's ties, vests and jackets. A decade later, Madonna (1958–), the singer who first found fame performing in vampy outfits and lacy skirts, donned a pinstripe suit and grabbed her crotch in the video for her 1989 song "Express Yourself," clearly expressing her own embodiment of "male" power and success.
Nowadays, the freedom to wear pants simply adds a layer of options to a woman's dressing routine. Nobody blinked an eye when actress Angelina Jolie eschewed a fancy gown for a white Dolce & Gabbana pantsuit at the 2001 Academy Awards. At this stage in the clothing game, a woman wearing pants can be seen as someone who has made a fashion statement rather than a political one—but only because trailblazers before her recognized the social connection between power and pants, and bravely determined to wear their power.
:: woa.tv staff