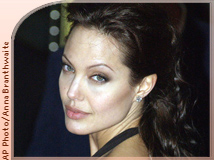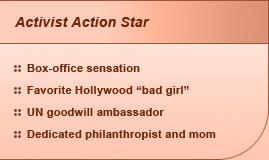 I've realized Hollywood is such a tiny place, and there are things in the rest of the world that are much more important.
—Angelina Jolie
Angelina Jolie grew up thinking she wanted to be a funeral director. Instead, she has captured the world's attention as an actress, activist and colorful public figure.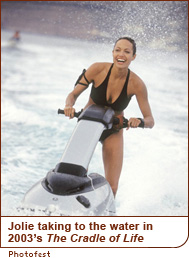 Between films, the Academy Award winner and single mother works as a goodwill ambassador for the United Nations High Commission for Refugees (UNHCR), coordinating international efforts to protect refugees and resolve refugee problems.
Driven by a passion for adventure and compassion for those whose lives haven't been as lucky as hers, Jolie continues to win fans for her work on- and off-screen.
Hollywood Roots
Jolie was born into Hollywood royalty. Her father, Jon Voight, won an Oscar for playing a Vietnam vet in Coming Home (1978), and her mother was French actor and model Marcheline Bertrand. Her parents divorced when she was a year old, and Jolie and her older brother, Jamie, were raised in New York by their mother. The family moved to California when Jolie was 11.
Drawn to her parents' career path, at age 12 she attended the prestigious Lee Strasberg Theatre Institute, but with her all-black garb and dyed-purple hair, she didn't exactly fit in. In her teens, Jolie dabbled in modeling before grabbing some silver-screen time in the fun teen film Hackers (1995), through which she met her first husband, costar Johnny Lee Miller.
She landed increasingly meaty supporting roles over the next three years, until she finally got the role that would make her a star.
In the HBO movie Gia (1998), Jolie played model Gia Carangi, who died of AIDS in 1986. Her portrayal of one of the first women associated with AIDS won her a Golden Globe and a Screen Actors Guild Award. Her star continued to rise from that point on, and in 2000, she won another Golden Globe and an Academy Award for playing a sociopath in Girl, Interrupted (1999), which was based on writer Susanna Kaysen's account of her 18-month stay in a mental institution.
When Jolie married her second husband, eccentric writer-actor-director Billy Bob Thornton, in May 2000, she started making headlines for everything but her acting. The tabloids went wild with tales of their nontraditional relationship, and Jolie's bisexuality and bold attitude also sparked rumors of love affairs with nearly every one of her costars. Yet such press didn't bother the actress. As she told Allure magazine, "I'm not really a safe, normal person. I'm completely who I am and people can take it one way or the other, but I'm at least living honestly."
A New Role
Always the rebel, Jolie thwarted post-Oscar expectations and jumped into high-action "popcorn" movies. She was cast as weapons-wielding archaeologist Lara Croft in two successful films, Lara Croft: Tomb Raider (2001) and Lara Croft Tomb Raider: The Cradle of Life (2003), based on the popular video-game series.
Sure, some people warned her against doing Tomb Raider and urged her to make more "serious" movies, but Jolie was drawn to the adventure of playing Lara Croft. "I love Lara, and everything she stands for," she said in a Los Angeles Times interview. "She's wicked and wild, with [a] sense of freedom."
To prepare for the physically demanding role, Jolie trained strenuously in gymnastics, kick-boxing, weight-lifting, motorcycle riding and bungee jumping. She gave up wine and cigarettes in favor of a high-protein diet.
"I didn't think I could pull it off," she admitted to Cinescape magazine. "I wanted to see the limits I could put on myself physically and mentally. It's bizarre—it's harder to stay in a positive, healthy, clear, brave state of mind all the time. Sometimes it's easier to go into yourself and get dark."
But Jolie was determined to embody Lara, a complex character who is both ladylike and tough, intellectual and physically strong. "I wanted [Lara] to be about sweat and muscle and yet still feminine," she told the Los Angeles Times. "Her boots are heavy, and so are her guns. I spent days practicing reloading and flipping them. I went through a military style of training, from target practice to combat maneuvers. I learned martial arts, about shooting with different weapons."
Jolie did many of her own stunts in the Tomb Raider films, and director Simon West says she often outperformed her stunt doubles. She pulled ligaments and was burned during a mishap with an exploding chandelier.
Off-Screen Heroine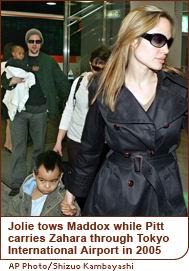 While shooting the first Tomb Raider film in Cambodia, Jolie was struck by the fact that areas of the beautiful country were off-limits because they were riddled with land mines. "It was very clear to me there was a lot about this world that I didn't know," she has since said. "I felt really ashamed and ignorant." So she educated herself and took action.
Returning a year later as a UNHCR goodwill ambassador, she took personal stock of the toll a generation of war had wrought. She returned to Cambodia again to adopt her son, Maddox.
The joy of raising Maddox opened her to the idea of bringing more children into her life. In July 2005, Jolie adopted her daughter, an Ethiopian baby she named Zahara. Months later, the actress confirmed rumors that she was expecting another baby—this time, with her Mr. and Mrs. Smith costar, Brad Pitt. Pitt legally adopted Zahara and Maddox, and on May 27, 2006 in the privacy of the Welwitschia Clinic in Walvis Bay, Namibia, Africa, they became the proud parents of daughter, Shiloh–Nouvel Jolie–Pitt.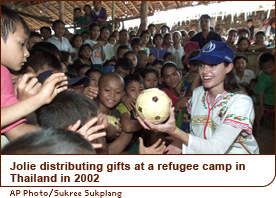 In addition to donating to UNICEF and traveling to refugee camps all over the world, Jolie has formed several nonprofit foundations: The Maddox Relief Project supports orphanages in Cambodia, The Jolie Foundation provides medical services to orphans across the globe and the All Tribes Foundation supports Native Americans and works with an animal sanctuary in Namibia.
With all this, Jolie continues to make films as one of the most sought-after actors in the business. Award-winning actor, committed activist and dedicated mother, she is clearly a woman who puts her passions into action.
:: Andrew Helm