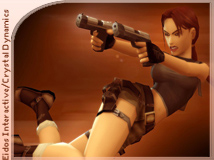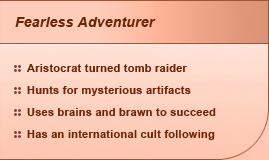 In the relatively short history of video games, very few characters have reached iconic status. Even if you don't play games, odds are you're familiar with Lara Croft, the shapely archaeologist with a ponytail, sunglasses and a 9 mm pistol on each hip. The success of the Tomb Raider franchise in which she appears helped usher in the current explosive growth of video games as an entertainment medium to rival (and indeed surpass) film and television.
Not Just a Pretty Face
In 1993, Toby Gard, a game designer at Core Design (a division of industry giant Eidos Interactive) wanted to make an Indiana Jones–style game. At the time, the demographic for PC action games was squarely male. Most games featured bulky, macho heroes who shot everything in sight. Wanting to try something new, Gard, along with Core cofounders Jeremy Heath-Smith and Adrian Smith, envisioned a sleek, lithe and elegant female as a lead character. Others at Core and Eidos thought the idea was crazy, but they were eventually convinced that the overwhelmingly male gaming audience would be thrilled to "play" a strong, sexy female character.
Among the many elements that made Croft stand out was a remarkable backstory, which was almost unheard of at the time.
Croft, the daughter of Lord Henshingly Croft, was raised as an aristocrat. Spurred by an article in National Geographic, she shunned the opulent lifestyle to focus on archaeology and athletic pursuits at her Swiss finishing school.
On a school vacation in the Himalayas, the plane carrying Croft and her friends crashed. Croft was the sole survivor. After surviving two weeks on her own, she had an epiphany: She wanted to spend the rest of her life as a "tomb raider," traveling alone around the globe to rescue priceless objects from those who would use them for evil.
While in England, Croft lives in a Surrey mansion replete with a custom-built assault course for training. To fund her radical lifestyle, she writes travel books such as A Tyrannosaurus Is Jawing at My Head and Slaying Bigfoot.
The first Tomb Raider game combines adventure gameplay with shoot-'em-up action. Croft is hired to find three artifacts that could unlock the mystery and power of the Great Pyramid of Atlantis. She eventually discovers that the woman who hired her has dark ulterior motives. She must face off against this woman and collect the three artifacts—or risk the world's future. To achieve this, Croft must solve a series of puzzles. She needs both brains and brawn to defeat enemies and escape hazards.
By 2000, this formula had produced six games for a host of different game systems.
In the course of her adventures, Croft has recovered a Chinese dagger that turns men into dragons, sneaked into Area 51, fought monsters across Antarctica and battled her one-time mentor, Werner Von Croy, in the pyramids of Egypt.
Inevitable Backlash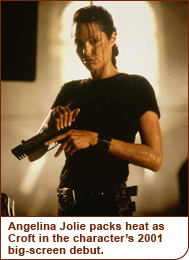 From the beginning, Croft has had her fair share of detractors. Their main problem has always been Croft's Barbie Doll physique and penchant for tight outfits. While her creators point out Croft's intelligence, athleticism and drive as positive traits of the character, there is no doubt that her appearance alone brought many people to the games.
Croft's sexy quotient was raised after the game was released. Hackers released a "patch" for the game—a temporary addition to a piece of existing computer code. The patch, which was available online, allowed gamers to undress Croft and continue playing the game as a nude heroine. Core Design and Eidos quickly threatened legal action against all websites or servers that hosted the patch. It was removed from many sites. But game sales and Croft's cyberbabe status only increased as a result of the controversy.
Pop-Culture Roller Coaster
Paramount Pictures won the rights to bring Tomb Raider to the screen. Both the gaming community and Hollywood were abuzz with speculations about who would play Croft. Dozens of names were bandied about, but Oscar winner Angelina Jolie finally won the coveted role.
Lara Croft: Tomb Raider (2001) focused on a race between Croft and another tomb raider in the search for a mystical clock that could stop time. The film grossed nearly US$275 million worldwide. However, critics were less than kind to the picture, saying it was long on flash and action, but confusing and weak in its character portrayal.
Regardless, Paramount began work on a sequel. In Lara Croft: The Cradle of Life, Croft discovers an orb that will lead to the mythical Pandora's Box.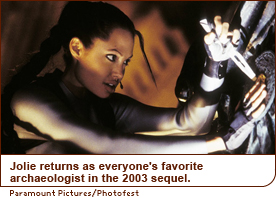 When an evil scientist steals the orb, she must enlist the help of a Scottish mercenary (and former flame) to get it back. The film did well, but earned far less than its predecessor.
Tomb Raider: Angel of Darkness, the sixth Croft video game, was released alongside the film sequel in summer 2003 after long and costly delays. Although it sold well, critics and gamers alike panned the game, complaining of bugs and unpolished gameplay.
Eidos parted ways with Core Design in late 2003 and put a new company, Crystal Dynamics, in charge of designing a seventh game. Tomb Raider: Legend is slated for release in 2006. A third film is a possibility but nothing is currently slated. Lara Croft remains on view in comic books, adventure novels, her own board game and even a few amusement-park rides. Whatever Croft's future holds, it will no doubt be full of daring adventure, as she travels the globe looking for the next mystical artifact. Indiana Jones, eat your heart out, Croft is on your tail.
:: Andrew Helm