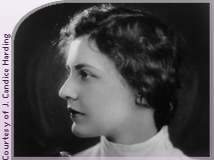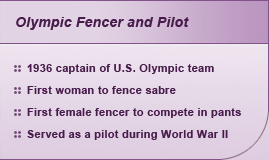 Joanna de Tuscan was born prematurely, and to keep the tiny infant warm, her parents, George and Gizella Savich, placed her in a shoebox next to a wood-burning stove. They fed her through an eyedropper and prayed for her survival.
The baby not only survived, she grew up to become a professional athlete who transformed her chosen sport—fencing. In addition to winning national and international foil championships, de Tuscan was the first woman to fence sabre. Her trailblazing style led to a sea change in attire for female fencers and her great talent (and beauty) drew new audiences to the sport.
Wearing the Pants
De Tuscan grew up in one of Detroit's finest neighborhoods. Her privileged life included swimming, ballet and horseback-riding lessons. In the late 1920s, she began to study fencing when Hungarian fencing master Bela de Tuscan noticed her athletic ability and solicited her to study under his tutelage. No doubt he also was attracted to the young fencer. In 1931, he proposed marriage and they were wed.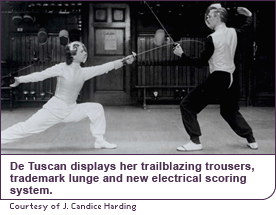 Fencing soon eclipsed all of de Tuscan's other interests. The hardworking young woman moved quickly from novice to Michigan state champion to Midwest sectional champion. Her style on the strip set her apart. Traditional U.S. foil fencing tended to involve more hand than foot action. Fencers usually scored their touches by holding their ground and engaging in a series of complicated blade actions. This required thinking several steps ahead of one's opponent. De Tuscan took her competitors by surprise with a more athletic and dynamic style. She came flying down the fencing strip like a force of nature, covering more ground than any of her opponents—and finishing in a powerful lunge that became her trademark.

According to the rules of the sport, women fencers wore divided skirts. But de Tuscan had other ideas. "The skirt just kept getting in the way and it stifled my style," she said. So she opted to wear custom-made fencing pants or knickers, becoming the first woman in fencing history to compete in pants. Soon all of the Michigan Fencing Club women were wearing pants.
Not everyone approved. Fencer and columnist Paul Gallico ridiculed the look in the New York Daily News: "I have never seen such a sloppily dressed group of lady athletes ... All I can say is–darlings, don't wear pants—ever! There never was a more graceful piece of apparel designed for a lady than a skirt. Pants are for guys."
De Tuscan ignored such gibes and moved from Michigan to New York City to take private lessons with George Santelli, one of the two coaches for the 1936 Olympic team. The 26-year-old fencer had her sights set on the Olympics. She was serious about training. As Santelli reported, "She is not only one of [my] most apt pupils but never squawks at having to retire early instead of doing the night clubs."
Olympic Aspirations
De Tuscan not only made the U.S. Olympic team—she became its captain. She also became the 1936 U.S. national champion in women's foil. This accomplishment came as no surprise to de Tuscan, who remarked later, "I knew I was going to win. I was determined."
The young fencer was a media darling, praised in the papers for her "fast footwork," dubbed "quick, flexible, aggressive" and "courageous." Her hometown newspaper, the Detroit Free Press, boasted, "Mrs. Joanna de Tuscan [is] one of the newest and prettiest reasons Detroit is called the City of Champions." And even though the Olympic team returned without a medal, the Detroit Times boasted, "Mrs. de Tuscan, widely known as one of the most beautiful women in the country, has been further honored as the 'Most Beautiful' on the American Olympic Team."
It was a quick rise to fame with bittersweet consequences. After the Games, de Tuscan's competitive fencing career in the United States ended due to accusations that she was being paid for fencing demonstrations. The charges were absurd, and the amount in question was US$0.20. Nonetheless, the Amateur Fencers League of America (later the United States Fencing Association) banned de Tuscan from amateur competitions. The feisty fencer later observed, "I showed them ... they accused me of being a pro and excluded me from tournaments, so I traveled the world, became a professional and made a lot of money."
Dancing with Mussolini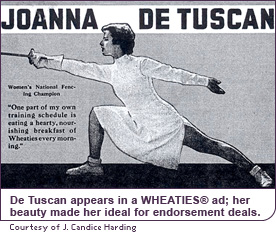 De Tuscan's talent and good looks made her a celebrity, and she was offered endorsement deals with WHEATIES®, Maxwell House and Camel (although she did not smoke). She and her husband toured Europe giving fencing demonstrations. These shows were hugely popular, and sometimes men from the audience would attempt to fence with her.
The exhibitions gave the de Tuscans an opportunity to showcase a new electrical scoring system they had developed. Despite the usefulness of the device, the Amateur Fencers League showed no interest in the invention. So the couple used it to perform an electrical sabre show for audiences across Europe. In the process, de Tuscan became the first woman to fence with a sabre.
De Tuscan decided it was time to take on the European pros. In 1939, she defeated two-time European champion and Olympic gold medalist Ilona Schacherer-Elek and became the international professional women's champion. The Pittsburgh Post-Gazette raved: "Fencing and the de Tuscans are just about synonymous in the United States and in the world today. Joanna de Tuscan, who perhaps is best known among the hoi polloi as the American Olympic fencing captain of 1936, is now the world's professional women's fencing champion." De Tuscan was toasted at the courts of Europe; she even danced with Mussolini. The outbreak of World War II, however, put a stop to the fun and to the fencer's professional career.
From Foils to Flying
The de Tuscans fled Europe and returned to the United States in 1939. The fencer wanted to serve her country, so she joined the United Service Organizations (USO) Sports Team and went to the Pacific Theater of Operations. On her return, she piloted planes for the Civil Air Patrol (CAP).
In 1943, the de Tuscans were divorced. On December 31, 1946, Joanna married Cyril R. B. Harding, an English consulting engineer, and devoted herself to being a wife and mother. She also began a second career as a fencing double for a variety of movie stars and became a fencing instructor at Twentieth Century Fox Studios and at the Agnes Moorhead Dramatic School. De Tuscan remained active well into her 80s, boating, tap-dancing in a troupe and giving fencing demonstrations to children.
In 2001, at the age of 93, de Tuscan was inducted into the Fencing Hall of Fame, just the place for an Olympian and world champion who fearlessly lunged her way to international celebrity.
:: Maureen Russell
Read More About Joanna de Tuscan