Michelle Yeoh, the Malaysian-born actress and international movie star, is known for her critically acclaimed role in Crouching Tiger, Hidden Dragon (2002) and her high-flying stunts in such films as Tomorrow Never Dies (1997) and Police Story III: Supercop (1992). But the queen of martial arts films isn't content to just continue her reign on camera. Instead, the 42-year-old star has increased her behind-the-scenes power by becoming a producer. In 2000, she and partner Thomas Chung formed Han Entertainment, a move that allows Yeoh more control of the films she makes and greater influence in the film business.
Through Han's film production entity Mythical Films, Yeoh has already starred in and produced three action-adventure films in the last two years: The Touch (2002), Silver Hawk (2004) and Hua Mulan (2005). In each, Yeoh portrays the type of strong female lead she's famous for—a powerful, intelligent woman who can deliver a kiss or a roundhouse kick with equal grace. An early pioneer in the macho martial arts culture, Yeoh is often credited with creating the modern female action-hero found in Hong Kong and Hollywood movies today. As Ang Lee, the director of Crouching Tiger, Hidden Dragon (2000) commented in an interview with Ms. magazine, "In Asia, she has become an icon for the strong-willed woman."

It's not hard to believe that Asia's highest-paid female actress, known for her daredevil stunt work and kick-ass combat moves, began as a dancer. As a teenager, Yeoh moved from her home in Malaysia to attend the prestigious London Royal Academy of Dance. However, her dream was cut short by a spinal injury. Doctors said she'd never withstand the strenuous training required of a ballerina.
After her return to Malaysia in 1983, she met Hong Kong producer Dickson Poon, who cast Yeoh in a commercial opposite Jackie Chan. A contract soon followed for the young actress. Although her first film role was a stereotypical "girlfriend" part, Yeoh (then known as Michelle Khan) used her big-screen debut to train with Hong Kong's top stuntmen while on the set. Her years of rigorous physical training paid off and dance proved to be the perfect foundation for martial arts education. Yeoh was soon ready for full-on fighting roles.
The opportunity to showcase her skills came in 1985 when she was paired with world karate champion Cynthia Rothrock in Yes, Madame! (1995). Rothrock and Yeoh performed their own stunts, and the film was a trailblazing hit. With the film's success, Yeoh broke through the tight-knit Hong Kong stunt community like a fist shattering a brick. Her career was set.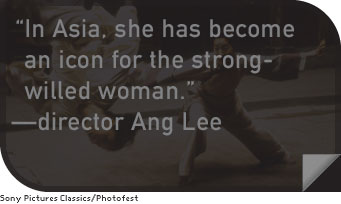 Several films followed, as did a brief hiatus from filmmaking during her marriage to Dickson. The marriage lasted three years; after its end, Yeoh returned to film by costarring with Jackie Chan in Supercop.
The grueling shooting schedule took its toll on the actress' back as Yeoh's spinal injury continued to cause her pain. (Over the course of two dozen films, Yeoh has acquired a litany of injuries including a dislocated shoulder and elbow, torn ligaments in both knees, a ruptured artery in her leg, a cracked rib, burns and deep muscle bruises.) In 1996 Supercop was released in the United States and the rest of the world finally discovered what Asian fans already knew—Michelle Yeoh was a star. As a result, she was cast in her first Hollywood film, playing opposite Pierce Brosnan's James Bond in the global hit Tomorrow Never Dies.
Yeoh received best actress nominations from the Hong Kong Film Academy and British Academy of Film and Television Arts for her next film, Crouching Tiger, Hidden Dragon. The surprise international hit repopularized the martial arts genre in the West. Instead of going Hollywood, Yeoh opted to use her newfound international clout to give back to the Asian film industry that gave her a start. She turned down a role in The Matrix Reloaded (2003) to focus on her production company's projects.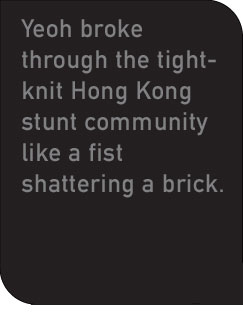 Yeoh's crossover appeal places her in a unique position. She accepts offers from Hollywood when she pleases (she's starring in the Steven Spielberg–produced version of Memoirs of a Geisha) and creates her own English- and Chinese-language productions in Asia.
So far, her efforts at Han Entertainment have been successful. The Touch, directed by Crouching Tiger cinematographer Peter Pau, garnered acclaim in Asia. (The film's North American release remains on hold due to the corporate woes of distributor Miramax.) Silver Hawk won best coproduction film at the Mainland China Huabiao Awards (an award The Touch won as well). The film features a very dangerous stunt: Yeoh jumps a motorcycle over the Great Wall of China.
According to the Hong Kong newspaper Oriental Daily, when producers first mentioned the spectacular act to Yeoh, she responded with her usual aplomb: "Great. I'll do it. No wires. No special effects. No stunt double." Of course, she made it.
:: Andrew Helm