Decapitating a man who insults her might not be every woman's first response, but O-Ren Ishii isn't every woman. She's the brutal assassin and underworld leader, aka total vengeful bitch, played by actor Lucy Liu in the films Kill Bill Vol. 1 and Kill Bill Vol. 2 (2003, 2004). The incredible fight scene in which Liu and Uma Thurman (as The Bride) slice relentlessly at each other with samurai swords is one of the best female battle scenes in film history. Both women are as steely as their weapons, ice queens fighting to the death in falling snow. As they size each other up physically, looking for weak spots, the women engage in a salty-sweet banter, proving they can trade puns as well as punches. Although The Bride has killed or maimed all of O-Ren's 88 men, O-Ren takes every opportunity to mock her: "You didn't really think it was going to be that easy, did you?" Finally, The Bride scores a decisive hit, and the kimono-clad O-Ren falls to the ground. Though she is the loser, Liu's villain won over enthusiastic audiences. She received a 2004 MTV Movie Award for the role, sealing her reputation as one of the hottest female action heroes in Hollywood.

It's a rep the 5-foot-2 Queens native earned honestly, and she's had the bruises to prove it. "When you work with chains or any kind of weapons, or just when you're using hand-to-hand combat, you are going to get hurt … It's just the way of this business, you just get damaged," Liu remarked in an interview with About.com. Making upward of US$4 million a film might have something to do with the beautiful 37-year-old Chinese American's matter-of-fact attitude about her work. Since beginning her acting career in the early 1990s, she's played a dominatrix (Payback, 1999), a rogue DIA agent (Ballistic, 2002), a femme fatale (Cypher, 2002), a murderer (Chicago, 2002) and an FBI agent (Domino, 2005). And that list doesn't include the roles she's most famous for: Alex Munday in the Charlie's Angels films (2000, 2003); O-Ren Ishii in the Kill Bill films (2003, 2004); and her breakout part as the merciless litigator Ling Woo on TV's Ally McBeal (1997–2002). It's an oeuvre composed almost entirely of tough women whose brains match their brawn.
Liu's take on the popularity of Kill Bill is simple: "Men like to see two women fighting because it's exciting. And women like to watch women fight because it makes them feel empowered physically and mentally," she explained in a 2003 interview with Us Weekly. To get into action-hero shape for Tarantino's epic story of fighting femmes, Liu spent three months in 9-to-5 physical training with martial-arts-movie legend Sonny Chiba. Showing incredible stamina, she commuted between the sets of Kill Bill and the Charlie's Angels sequel, Charlie's Angels: Full Throttle, where she also played a woman who kicks ass. (For the first Angels film, Liu and costars Cameron Diaz and Drew Barrymore spent four months training with actor/action director Daxing Zhang.)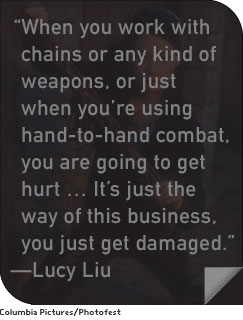 Lucy Liu's real life is marked by the same fierceness—minus the homicidal tendencies—she exhibits in her film roles. For fun, she practices Kali-Eskrima-Silat, a hybrid Filipino/Indonesian martial art that involves sword and knife fighting. The actor also skis, rides horses, rappels off of mountains and rock climbs.
As she told The Sun, she gets a lot more out of rock climbing than toned muscles: "Extreme sports give you a feeling you can't match. The benefits aren't just physical—it's so dangerous you get a high from it." Her martial-arts training has also paid off in more ways than physical fitness: In 2003 she told the Newark Star-Ledger, "It has made me more aggressive … more confident … It gives you an inner strength."
Liu has relied on her inner strength throughout her career, having become a subject of controversy the moment she became a star. Fans enjoyed aggressive litigator Ling Woo, Liu's character on Ally McBeal. But although Liu earned an Emmy nomination for the role, critics weren't sure what to make of Ling Woo. Did her aggressiveness challenge the stereotype of Asian women as meek and submissive? Or was she shoring up another stereotype of Asian women: the hypersexual dragon lady who seduces and then destroys? Given Liu's penchant for playing baddies, she's fought off the "dragon lady" label more than a few times. "If Renée Zellweger was playing this role [in Kill Bill]," Liu said in a 2003 interview with the New York Times, "I'm sure she wouldn't be referred to as 'dragon lady.'"
Liu has both embraced her Chinese heritage and struggled to break out of Hollywood's limited roles for Asian women. She's established herself as an all-around star comfortable enough in her own skin to gracefully navigate criticism and an industry that often marginalizes people of color. In fact, Liu's self-confidence is so recognized that she was chosen as an icon for Reebok's 2005 "I Am What I Am" campaign, which featured entertainers and athletes who symbolize authentic individuality.

The energetic Liu continues to star in one film after another. While working on 3 Needles (2005), which takes a multicultural look at the AIDS epidemic, she was inspired to travel to Africa. That trip led to her becoming a UNICEF ambassador in 2005 and committing herself to campaigns for HIV/AIDS awareness and education. In addition to starring in several new movies in 2006, Liu is about to take on a new behind-the-scenes role as executive producer of several upcoming films—including one that's poised to put her, once more, at the center of controversy. In Charlie Chan (2007), Liu will play the lead role of granddaughter of movie detective Charlie Chan. Called "one of the most offensive Asian caricatures of America's cinematic past" by the National Asian American Telecommunications Association, this controversial character and the uproar that will undoubtedly ensue will be especially interesting in producer-actor Liu's hands. Deciding to turn the focus of the movie from Chan to his granddaughter certainly reinterprets Hollywood's traditional take on the famous (and to many, infamous) Chinese detective.
Like the motley group of thrill-seeking women she brings to life in her work, Liu is clearly bigger than any box you could try to put her in. She has played cutthroat professionals and throat-cutting outlaws with equal ease, all the while reminding us that even bad girls have a backstory. Villain or angel, Liu's an action ace with brainy brawn and steely nerves—she's fun to watch and gives audiences something to think about after the credits roll. Inspiring controversy as well as admiration, Liu is carving her future as she sees fit.
:: woa.tv staff