Age is no barrier. It's a limitation you put on your mind.
—Jackie Joyner-Kersee


In 1980, a track-and-field coach named Calvin Brown watched an 18-year-old UCLA student-athlete participate in the U.S. Olympic trials. The assistant track coach, Bob Kersee, approached Brown and inquired about the woman.
"What does she need to work on to improve?" Kersee asked.
"Nothing," Brown said.
The young woman was Jackie Joyner. Six years later, she'd marry Kersee and go on to become one of the greatest track-and-field performers in history, dominating the sport's major events for more than a decade, from 1986 through 1998. She set world records and won Olympic gold medals in the heptathlon, seven grueling and disparate events held over two days, and also earned gold and bronze medals in the long jump.
A Rising Star
Joyner-Kersee was born to teenage parents in East St. Louis, Illinois, one of America's bleakest urban areas. Her family lived across the street from a liquor store and a pool hall.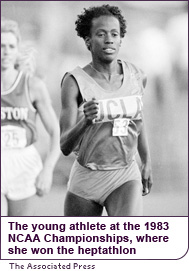 When she was 11, Joyner-Kersee witnessed a man being shot to death in front of her home. Such incidents made her and her older brother, Al, determined to leave the poverty of the slums. For both of them, sports were literally an escape from ghetto life's pitfalls—poverty, violence, drugs and alcohol.
At 13, Joyner-Kersee saw a made-for-TV movie about Babe Didrikson, who excelled in numerous sports and was a champion golfer and track-and-field star. The teenager, who at this point was already an accomplished long jumper, decided then that multievent athletics was both her calling and her ticket out of poverty.
In high school, Joyner-Kersee became a star basketball player, averaging nearly 20 points and more than 16 rebounds per game during her senior year. She was also a good student, ranking in the top 10 percent of her class. It was her athletic prowess that led to a full basketball scholarship to attend the University of California at Los Angeles (UCLA), where she started as a forward for four years and was a leading rebounder.
Joyner-Kersee first demonstrated her impressive athletic skills at the Olympic level when she competed in the 1984 Games in Los Angeles. At age 22, she won a silver medal in the heptathlon, and her brother, who also became an exceptional track-and-field athlete, won the gold medal in the triple jump. After the events, Joyner-Kersee started crying, and as Al tried to console her, she told him, "I'm not crying because I lost. I'm crying because you won."
The following years were eventful for Joyner-Kersee, and not only on the sports front. In 1986, she married UCLA coach Bob Kersee; the following year, another champion athlete joined their family when Al married sprinter Florence Griffith.
Heptathlon or Bust
With her supportive partner by her side, Joyner-Kersee became even more focused on the heptathlon, and the whole world took notice of the young woman from the Midwest. A heptathlete competes in the 200-meter run, 800-meter run, 100-meter hurdles, shot put, javelin throw, high jump and long jump. Her strongest heptathlon event was the long jump; her weakest, the 800-meter run.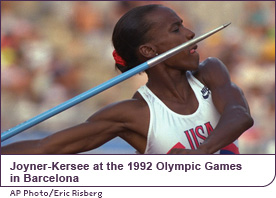 Before Joyner-Kersee, the world-record heptathlon score was 6,946 points. In July 1986, she scored 7,148 points at the inaugural Goodwill Games in Moscow, and she upped the total to 7,291 during the 1992 Olympics in Barcelona. That was the sixth time she surpassed 7,000, and her fourth and final world record.
Competing outside the heptathlon, in the single-event long jump, Joyner-Kersee leaped 24 feet, 5.5 inches in 1987, tying the world record. She won long-jump Olympic gold in 1988, in Seoul, and bronze medals at the next two Olympics. No other woman, before or since, has won a multievent gold and a single-event gold during the same Games.
Her medal-winning performances brought national and international acclaim. She was inducted into the National Track & Field Hall of Fame, Olympic Review magazine named her one of the best athletes of the century, and Sports Illustrated for Women named her Greatest Female Athlete of the Twentieth Century.
And it wasn't just magazines that were singing her praises. American decathlete Bruce Jenner was her fan, and outside of track and field, women's soccer heroine Mia Hamm told woa.tv, "I always looked up to Jackie Joyner-Kersee as a woman who competed at the highest level with grace and class."
An All-Around Sensation
After retiring from track in 1996, the 5-foot-10-inch Joyner-Kersee returned to her basketball roots and joined the newly founded American Basketball League, playing briefly with the Richmond Rage.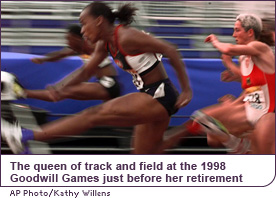 She opened the JJK Community Foundation, designed to improve leadership qualities among urban youth, raise funds for activity centers and provide scholarship money. And she moved back home to East St. Louis, where in 1998, she broke ground on the US$12 million Jackie Joyner-Kersee Boys and Girls Club.
Before she retired, though, Joyner-Kersee's final competition came in the heptathlon at the 1998 Goodwill Games in New York City. She held the overall points lead heading into the final event, the 800-meter race. She ran hard and finished just close enough to her chief rival to maintain the points lead and lay claim to one more gold medal.
Joyner-Kersee cried again, but this time, for herself. Her brilliant track-and-field career had concluded, but she is still celebrated as one of the greatest athletes of all time and rightly earned the title Queen of Track and Field.
:: woa.tv staff
Read More About Jackie Joyner-Kersee