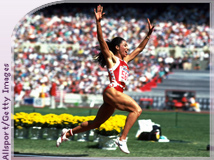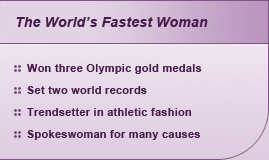 People don't pay much attention to you when you are second best. I wanted to see what it felt like to be number one.
—Florence Griffith-Joyner


Florence Griffith-Joyner began chasing jackrabbits at the age of five—and never slowed down. She would later use her natural athletic talent and fierce determination to set the track world on fire. She set astonishing—and still unbroken—world records in the 100- and 200-meter dashes in 1988, won three gold medals and one silver at the 1988 Olympics and became known as the fastest woman in the world. As former president Bill Clinton said after the athlete's untimely death at age 38, "We were dazzled by her speed, humbled by her talent and captivated by her style."
Sprinting to Success
The seventh of 11 children, Griffith-Joyner grew up in Los Angeles' Watts neighborhood. A free-spirited child, she was drawn to the exhilaration of sprinting. She showed early athletic talent when, at age seven, she began running competitively at the Sugar Ray Robinson Youth Foundation and beat most of her male peers. At 14, she won the Jesse Owens National Youth Games; she defended her title the following year.
In high school, Griffith-Joyner was a straight-A student and star athlete. She anchored the 440-yard relay team and set school records in sprints and long jumps at Jordan High School. It was during this time that the fashion-conscious side of the athlete began to appear. She supposedly was so annoyed with the uniforms the girls had to wear, she got her track team to add tights to their ensembles.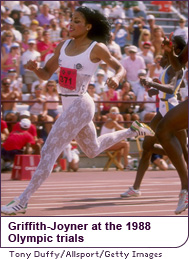 In 1978, she started her college career at California State University at Northridge (CSUN), where she continued to show talent in track and field. Unfortunately, money was tight, so she left school after her freshman year and went to work at a bank. But her CSUN track coach, Bobby Kersee, wasn't about to let the young athlete's skills go to waste. He helped Griffith-Joyner apply for financial aid to return to school. And when Kersee was hired by University of California at Los Angeles (UCLA) as an assistant coach in 1980, Griffith-Joyner transferred from Northridge to follow him and run track there.
She was invited to the Olympic trials that same year, but failed to place high enough to make the Olympic team. Undaunted, she continued training and went on to win National Collegiate Athletic Association championships in 1982 and 1983. Then, she finished fourth in the 200-meter race at the 1983 inaugural World Championships. And after graduating from UCLA, Griffith-Joyner qualifed for the 1984 Olympics, held in her hometown of Los Angeles. She won a silver medal in the 200-meter dash. It was a disappointing finish for the athlete who had her heart set on gold.
During the next few years, Griffith-Joyner worked as a bank secretary, stopped training and fell out of shape. With the support of coach Kersee and her new boyfriend, Al Joyner, a triple-jump Olympic gold medalist and brother of athlete Jackie Joyner-Kersee, she got back to an intense training schedule and took second place in the 200-meter race at the 1987 World Championships. She followed that achievement with another celebration: her marriage to Joyner in October of 1987.
Griffith-Joyner continued to improve on the track and astounded the sports world at the 1988 Olympic trials when she set a new world record for the 100-meter dash with the incredibly fast time of 10.49 seconds. Some skeptics believe she benefited from an unreported wind advantage. However, her amazing record still stands, undisputed and unbroken.
The Fastest Woman in the World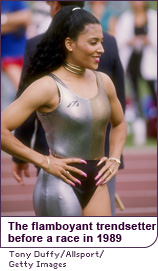 She became an overnight sensation, as famous for her sexy one-legged bodysuits and 6-inch-long fingernails as for her athletic ability. The media nicknamed her "FloJo" and she was dubbed the "world's fastest woman."
Griffith-Joyner became the favorite to win gold in the 1988 Seoul Olympics and she didn't disappoint. She ran the 100-meter race in a wind-assisted 10.54 seconds, beating teammate Evelyn Ashford by three-tenths of a second. In the 200-meter, she set a new world record and won another gold. She won a third gold in the 4x100-meter relay and a silver in the 4x400-meter relay. That year, she was voted U.S. Olympic Committee and Associated Press Female Athlete of the Year. She also won the Sullivan Award and the Jesse Owens Award.
Some of her competitors insisted that her phenomenal times could have only been the result of using performance-enhancing drugs. In 1989, American sprinter Darrell Robinson accused Griffith-Joyner of paying him to obtain human growth hormone, but the allegations were never proven.
Her Race Is Run
Griffith-Joyner retired from competition soon after the Seoul Games to pursue her many other interests, including fashion design and raising a family. She also became a spokeswoman for the American Cancer Society, the Multiple Sclerosis Foundation and Project Eco-School.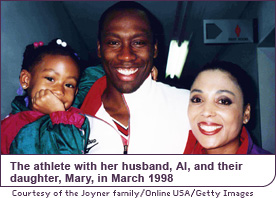 She had such a dedicated fan base that even the White House wanted to be associated with the superstar athlete. In 1993, she was selected by President Clinton to cochair the President's Council on Physical Fitness and Sports. Yet Griffith-Joyner still wanted to do more for the community she knew so well, so in 1994, she and her husband founded the Florence Griffith-Joyner Foundation for Disadvantaged Youth.
Her sudden death in 1998 from an apparent heart seizure rekindled rumors of drug use. Sportswriters and steroid experts surmised that the sudden death of a healthy 38-year-old athlete could very likely be due to the strain that chronic steroid use puts on the heart. Her autopsy turned up no evidence of drug use, but could not rule out the possibility. During her life, Griffith-Joyner had steadfastly denied the accusations; throughout her career, she never failed a drug test.
Relentlessly true to herself and her goals, Griffith-Joyner's journey from the impoverished Los Angeles projects to becoming the "world's fastest woman" was extraordinary. But it was her unique style and her dedication to helping a new generation of athletes follow in her path that made Griffith-Joyner the kind of champion people never will forget.
:: Lisa Cooke