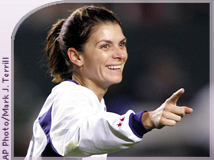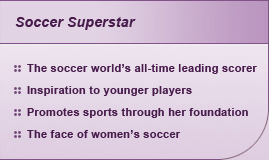 On a glorious, sunny Southern California summer day in 1999, women's team sports reached new heights.
A major contributor to that ascension was Mia Hamm, perhaps the greatest American and female soccer player of all time, and the leading goal scorer and assist maker—male or female—in the history of world soccer.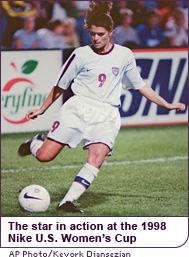 On July 10, 1999, a crowd of 90,185 fans jammed the Rose Bowl stadium in Pasadena, California, to witness the final of the quadrennial Women's World Cup tournament. Forty million more Americans viewed the game on television.
The 5-foot-5 Hamm, a right-footed striker, scored two goals in the 1999 tournament—out of the record-smashing 153 she scored during her storied 17-year international career. Hamm netted the penultimate penalty kick that day, as America beat China, 2-1, in overtime, claiming the Cup in a dramatic fashion. Hamm's teammate Brandi Chastain converted the game-winning boot and jubilantly stripped off her jersey and slid to her knees.
"Playing in front of nearly 100,000 people at the Rose Bowl was the most incredible experience you could have as a female soccer player," recalls Hamm. "The warmth and support we felt during the '99 World Cup was unprecedented and something I will never forget."
Young fans—girls, mostly, but boys, too—went wild for Hamm, screaming her name the way girls from a different decade bellowed for John, Paul, George and Ringo.
A Young Talent
Mariel Margret Hamm was born on March 17, 1972, in Selma, Alabama. That's the same year that Title IX legislation passed in the United States, mandating equal scholastic athletic opportunities for girls and boys.
Born with a partial clubfoot, the young Hamm wore corrective casts for two years. Her father, Bill, was an Air Force colonel, and by the time Hamm had her bandages removed, the family was based in Italy. It was there, in a neighborhood park, that the future superstar first kicked a soccer ball, keeping up with her fellow five-year-olds. From that moment on, Hamm excelled in the game, mastering the sport during her adolescence.
Come 1987, Hamm joined the U.S. national women's soccer team, becoming the youngest woman ever to do so. Meanwhile, she attended high school in Texas and Virginia, earning soccer honors.
She continued her soccer career at the University of North Carolina at Chapel Hill in the early 1990s. Her college squad won the National College Athletics Association (NCAA) championship during each of Hamm's four seasons, and she was selected an All-American three times. Her teammates nicknamed her Jordan, after basketball great Michael Jordan.
Hamm herself chose a different, similarly talented role model. "As an athlete," she says, "I always looked up to Jackie Joyner-Kersee as a woman who competed at the highest level with grace and class."
Most soccer fans would consider Hamm a class act as well. She developed her own strong, even-keeled style of play. She wasn't known as a shouter or a showboat. Even in her dominance, she didn't embarrass or humiliate opponents. She wore uniform number nine, traditionally reserved in soccer for the best player and leading goal scorer.
Going Global
In 1991, Hamm played in the first-ever Women's World Cup, held in China. Few fans followed the XX-chromosomed kickers back then, and only one journalist traveled with the team. Hamm scored two goals during the final round and became the youngest American to win a Cup.
Throughout her career, Hamm was the target of rough tactics from opponents unable to compete with her speed, decisiveness and power. She sprained her left ankle in the opening game of the 1996 Olympics, but came back to assist on a goal in the championship match, when 76,481 fans watched the Americans win gold in the first Olympic women's soccer competition.
Her friends Chastain, Michelle Akers, Kristine Lilly and Briana Scurry were among the legends of U.S. soccer on the field—or "pitch," in soccer talk—that day. But even when she didn't score, Hamm continually established herself as the dominant presence in a game, a tournament and an era.
Hamm joined the national team at age 15 and retired at 32, earning 266 "caps"—that's second place, all-time, worldwide. (Her teammate Kristine Lilly, who has been on the national team since 1987, is the all-time leader among women with almost 300.)
During Hamm's tenure with the U.S. national team, the squad placed first, third, first and third in four Women's World Cup tournaments. They won gold, silver and gold at three Olympics. In that time, Hamm also managed to shatter the women's record for goals made in international competition, formerly held by Italy's Elizabeth Vignotto at 108, with her 153.
In 2001, the Fédération Internationale de Football Association (FIFA), soccer's international governing body, released a list of the 125 best futbolers of all time, as selected by Pelé, the sport's greatest star. Hamm made the list, along with her longtime teammate Akers. They were the only women on the list, and the only Americans.
Like many top female soccer and basketball players, Hamm eventually suffered a knee injury, but she rehabilitated and came back strong as the talent and publicity centerpiece for a new women's professional soccer league, the Women's United Soccer Association (WUSA). The league, another soccer first for females, lasted from 2001 to 2003. Eight cities had teams, and the games were broadcast on television. Hamm played for the Washington (D.C.) Freedom, yet, despite her star power and public support of the league, WUSA couldn't attract the sponsors needed to sustain it.
The Fondest Farewell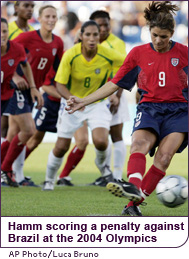 As dominant as the U.S. team was during the Hamm era, the club wasn't without rivals. China, for instance, and Norway. And ultimately, Brazil.
At the 2004 Olympics in Athens, Brazil and America advanced to opposing semifinal brackets. A loss and then a win, and the Americans would claim bronze medals. A win and then a loss meant that America would take silver.
Those were not Mia Hamm's colors.
"No matter how wickedly demanding the test was, Hamm wasn't going to lose her final game as America's first lady of soccer," a Chicago Sun-Times sports columnist wrote. "No script could be that sad, that cruel and that inappropriate."
The Americans, determined competitors, claimed the gold, defeating Brazil, 2-1, in overtime. Hamm added more gold to her collection.
On the victory podium, waiting to be crowned with laurels, the usually composed superstar was overwhelmed by emotion. She buried her head in her hands, apparently hiding tears.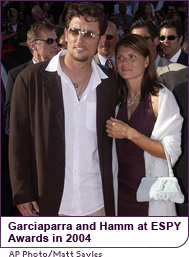 A few days later, Hamm was all smiles. U.S. Olympians from all sports chose her to represent America by carrying the U.S. flag during the closing ceremonies, adding another "first" to her long list: She was the first American soccer player ever to be so honored.
"There are few times in your life," says Hamm, "that you get to write the final chapter the way you want to. That was better than how I dreamed it."
If the Olympics was a final chapter, then life after sports should be a fruitful epilogue. When Hamm announced her soccer retirement, she cited her desire to start a family with her husband, All-Star baseball player Nomar Garciaparra. As for her legacy, Hamm says, "I want people to remember me for someone who cared about the game of soccer and other people—someone who left the game in a better place than I found it when I started playing."
:: woa.tv staff