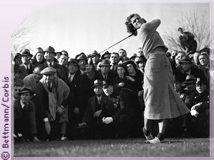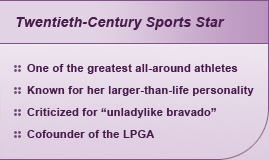 Before I was ever in my teens, I knew exactly what I wanted to be when I grew up. My goal was to be the greatest athlete that ever lived.
—Babe Didrikson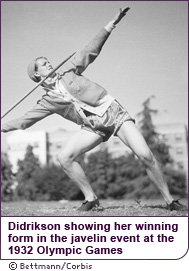 Considered the most outstanding female athlete of the twentieth century, Babe Didrikson excelled in every sport she tried. The so-called Texas Tornado was a track-and-field champion, All-American basketball star, record-setting golfer and all-around force in everything from baseball to bowling.
In 1938, long before golf sensation Annika Sorenstam was even born, Didrikson entered a PGA event to face her male counterparts on the green, and did so three more times in 1945. Though the highest she placed was 42nd, her determination to break barriers made her a press favorite and won her numerous fans. But more importantly, "she really changed the expectations of what a woman could do," said Marilynn Smith, who cofounded the Ladies Professional Golf Association (LPGA) with Didrikson and others.
A Babe in the Woods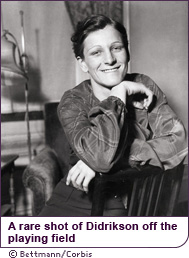 Babe Didrikson was born Mildred Ella Didriksen, the daughter of Norwegian immigrants. Her father was a carpenter and her mother was a talented skater and skier. When she was four, her family moved from Port Arthur, Texas, to Beaumont, a rugged oil town. The sixth of seven children, Didrikson did her part to support the family. As a youngster, she packed figs in a factory, earning US$0.30 an hour, and even sewed potato sacks.
A tough, working-class upbringing helped shape her independent and self-reliant spirit. A tomboy, Didrikson was strong and driven to assert herself, especially in sports, in part because of her father's emphasis on exercise. She proved to be a natural athlete, and she was dubbed "Babe" in grammar school because of her prowess, à la Babe Ruth, on local baseball diamonds. (At least that's how Didrikson explained the origin of her nickname; many sources state she was known as Babe simply because her mother called her "Baby.")
In school, she dominated every sport she tried: volleyball, tennis, baseball, swimming and especially basketball, which was very popular among young women at the time. As a student, however, her performance left much to be desired, and she frequently squeaked by, passing only enough classes to maintain eligibility for school sports. Her poverty and brazen attitude also didn't endear her to classmates.
Taking the World by Storm
At age 18, during her last semester of high school, Didrikson was recruited to join a basketball team sponsored by the Employers Casualty Company. It was common at the time for companies in the South and Midwest to hire exceptional female athletes to play on professional teams while maintaining part-time secretarial jobs. Didrikson was among those recruited more for athletic prowess than clerical skills. She received US$75 a month as a secretary rather than as an athlete (thus retaining her amateur status). As expected, she immediately shined as the star of the company's basketball team and, soon after, its track-and-field team.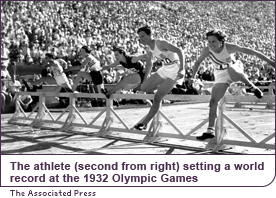 Didrikson was so immensely talented that Employers sent her to compete alone in the 1932 Amateur Athletic Union track meet for women, held in Illinois. A team of one, Didrikson won six of the eight events she entered, defeating entire teams drawn from professional female athletes from all over the country. The outspoken, cocky young woman surprised everyone who saw her perform.
Didrikson's excellence was reinforced on track and field's greatest stage, the Olympics. In Los Angeles, at the 1932 Olympics, Didrikson amazed audiences again, competing with a torn shoulder muscle and still managing to medal in the only three track-and-field events held for women. She won gold in the 80-meter hurdles and the javelin, setting world and Olympic records, respectively. Didrikson also took a silver medal in the high jump. She should have won the gold, but judges penalized her on a technicality for leaping headfirst over the bar, a then-unfamiliar innovation that was legalized 36 years later and popularized when the Fosbury Flop became an accepted style of jump.
When the young champion returned home to Texas after her incredible Olympic performances, thousands of admirers greeted her at the Dallas airport.
Sweeping the Green
Despite the press' strident attempts to vilify Didrikson for "unladylike bravado" and pursuing sports that were deemed inappropriate for a woman, the Terrific Tomboy was popular among sports fans. They appreciated her fiery, competitive streak and showboat's wit. She was known to walk into her competitors' locker rooms and say, "So, who's gonna be second?"
And she wasn't all talk. While her natural athletic ability was a major factor in her dominance, it was her incredible determination that made her a champion. For example, when legendary sportswriter Grantland Rice suggested in 1935 that she take up golfing, the 24-year-old Didrikson practiced ten or more hours a day, hitting 1,500 balls and playing until her hands bled.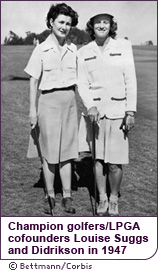 It was on the green in 1938 that Didrikson met flamboyant, former professional wrestler George Zaharias, a man who was said to be able to drive a ball farther than she could. The couple hit it off and on Christmas Day, the Terrific Tomboy and the "Weeping Greek from Cripple Creek" were married. Zaharias abandoned the wrestling world and began to manage his wife's career instead.
Bliss continued on the golf course for Didrikson during the late '30s and much of the '40s. She was an unstoppable force in amateur golf, winning 82 tournaments, 13 of them consecutive (though she bragged she won 17 in a row). In 1947, she also became the first American to win the prestigious British Amateur (later known as the British Open). "I played many sports," said Didrikson, "but when that golf bug hit me, it was permanent."
She turned professional that same year in order to see greater monetary returns. Then, in 1949, Didrikson, a true pioneer, joined 12 other women, including sister champion Louise Suggs, in cofounding the Ladies Professional Golf Association (LPGA), which now boasts well over four hundred members from more than 20 nations.
The Breaks
Didrikson was at the top of her game in the early '50s, and with all her tour winnings and endorsements, she was earning over US$100,000 a year, an incredible feat for a woman athlete of that time. But in 1953, she faced a major obstacle that rigorous training couldn't overcome—colon cancer. Following a four-hour surgery, doctors said she'd be too weak to play sports and that her golf career was over.
She proved them wrong.
Four months after surgery, the determined athlete entered a golf tournament and placed fifteenth. At the following week's tour event, she made a remarkable third-place finish. For the year, despite the operation, she finished in sixth place overall. And come 1954, Didrikson started winning tournaments again, including the U.S. Open, which she won by a whopping 12 strokes.
Unfortunately, the cancer soon returned. Though she held on for another year, Didrikson, arguably the greatest athlete of the twentieth century, died on September 27, 1956.
President Dwight Eisenhower noted her passing in an address:
She was a woman who, in her athletic career, certainly won the admiration of every person in the United States…and in her gallant fight against cancer, she put up one of the kind of fights that inspired us all.
Almost a half-century later, Didrikson's name, achievements and example live on: ESPN named her the tenth-best athlete of the twentieth century and Associated Press called her the ninth-best. She was the top-ranked female on both lists. The second-highest ranking woman on ESPN's top American athletes, heptathlete Jackie Joyner-Kersee, credits Didrikson as her inspiration.
:: woa.tv staff
Read More About Babe Didrikson