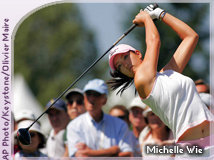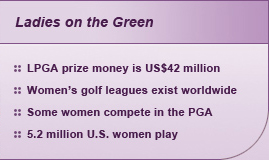 For centuries, women have played golf. Mary, Queen of Scots teed up back in the mid-sixteenth century, prior to her infamous beheading. Henry VIII's first wife, Catherine of Aragon, is known to have put stick to ball. And as early as 1792, women were golfing regularly in Scotland, but it wasn't until the end of the nineteenth century that the phenomenon spread to clubs in Europe, North America and Australia.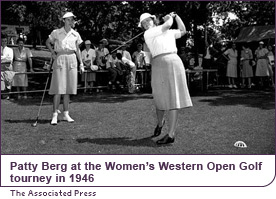 Today, golf courses around the globe are filled with female players. By 1998, in the United States alone, 5.2 million women had taken up the game, representing more than one-fifth of all the nation's players and nearly one-third of all newcomers to the sport. The success of the Ladies Professional Golf Association (LPGA), founded in 1950, has helped popularize golf among women and has also made the mastering of it a lucrative career choice.
Building Communities
The first women's golf clubs began popping up in Britain in the late nineteenth century. Prominent among them was the Ladies' Golf Union, an organization for amateur players, founded in 1893 "to uphold the rules of the game and to advance and safeguard the interests of ladies' golf." Not long after, similar organizations were founded in other parts of the world: the New Zealand Ladies Golf Union was born in 1910 and the Australian Ladies Golf Union was formed a decade later, in 1921.
By the 1920s and '30s, only a few women such as Americans Opal Hill and Helen Hicks called themselves professional golfers. During their heyday, there weren't many opportunities for women to display their skills in competition. There were only four U.S. tournaments that welcomed female golfers during the 1930s: the Hardscrabble Open, held in Arkansas; the Western Open, held in Chicago; the Texas Open; and the Titleholders Championship, held in Augusta, Georgia.
In 1946, a short-lived organization called the Women's Professional Golfers Association held the first U.S. Women's Open as a match-play competition. This championship event was played at the Spokane Country Club and carried a nearly US$20,000 purse. Patty Berg, who still holds the women's record for most majors with 15, took top honors. The tourney, which has been a 72-hole stroke-play event since 1947, developed into an LPGA event in 1950, the year that organization was born.
Welcome to the LPGA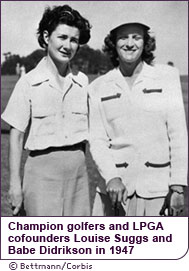 Multisport legend Babe Didrikson, Patty Berg, Helen Hicks and Opal Hill were among the 13 LPGA cofounders. Determined to legitimize professional women's golf, these women did it all: organized and played in tournaments, drafted bylaws, supervised membership, handled the publicity and recruited sponsors. The player-founders were even responsible for setting up tournament courses.
That first season, in 1950, there were 14 sanctioned LPGA events, and prize money totaled US$50,000. The LPGA featured only 13 competitors at that time, but now includes more than four hundred women from 25 nations. Further, by 2005, prize money for the 33 LPGA events had reached $42 million, with more and more international players joining the tour. LPGA tournaments, which represent the highest professional level of women's golf competition, air on network and cable television stations around the globe and continue to receive major sponsorship deals.
Today's LPGA stars include Swedish sensation Annika Sorenstam, who holds more than 30 tour records and has earned more than US$13 million, plus endorsements, during her still-young career. Looking for a new challenge, in 2003, Sorenstam became the first LPGA player to compete in a men's Professional Golf Association (PGA) event, and the first female to do it since Babe Didrikson in 1945.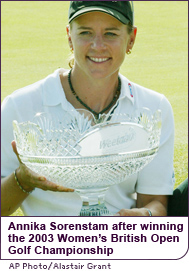 Since then, at least six other women have given the men's side a shot, including South Korea's Se Ri Pak, England's Laura Davies and Hawaii resident Michelle Wie, a prodigious teenage talent born in 1989 and pegged by analysts, advertisers and players as the game's next transcendent star.
Changing Gear
A less significant though interesting development for women in the sport is their attire. When ladies' golf clubs began appearing in Britain in the nineteenth century, most featured short nine-hole courses with flags only 80 yards from tees. These shorter courses were designed to accommodate the long skirts women were required to wear, which made swinging and follow-through cumbersome.
Today's clothing is much less confining, with most female players wearing shorts, pants or skirts of varying lengths that allow easy movement. And even better news for women entering the sport: After years of men's or unisex golf apparel being marketed as women's wear, clothing manufacturers have started producing more women-specific golf gear, with the new goods cut specifically for a woman's body and available in many colors.
Technological advances in fields from metallurgy to physics have trickled down to what is today the big business of golf equipment. Titanium clubs and aerodynamic balls add yardage to every player's long game. Not that all women need the help: According to legend, Glenna Collett Vare, who dominated women's golf in the 1920s, could drive a golf ball 300 yards, and Didrikson, 250. By the 2004 season, utilizing the new equipment, almost 90 LPGA pros averaged Didrikson's distance.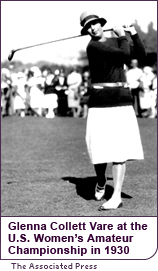 Today, there are few differences between the men's game and the women's. Both sexes are permitted to use the same 14 clubs. The balls are identical, as is the scoring system. One of the few differences between the women's and men's games is that during tournament play, females hit off "red tees," spots slightly closer to the distant hole than the males' "white tees."
All in all, women's golf has achieved near-parity with the men's game. A 1990s National Golf Foundation report claimed that today the best female golfers hit the ball approximately 85 percent as far as men. And with women golfers in India, South Africa, Japan and many other countries now teeing up, golf's appeal has gone global. And with women golfers in India, South Africa, Japan and many other countries now teeing up, golf's appeal has gone global. At the inaugural World Congress of Women's Golf in 2004, leaders of the LPGA, the Ladies European Tour, the Ladies Professional Golfers' Association of Japan, Australian Ladies Professional Golf Incorporated and the Korea Ladies Professional Golf Association announced plans to develop world rankings of pro women golfers.
Every year, more women are drawn to the sport. Whether they're among the millions worldwide who tee up just for fun or the growing elite who win major championships, women can be proud of a long tradition of conquering the green.
:: woa.tv staff
Read More About Golf