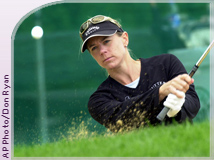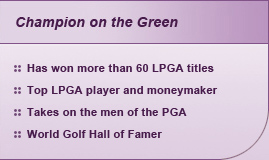 She has dominated the world of women's golf. It's not often you can say you have seen the best, but in Annika, I think perhaps we have.
—Tiger Woods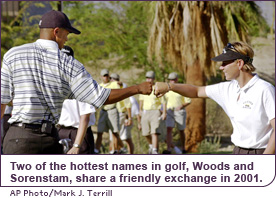 When the Ladies Professional Golf Association (LPGA) was founded in 1950, its founders, which included legendary all-around athlete Babe Didrikson, could hardly have anticipated today's huge purses and multinational membership. Thanks to Annika Sorenstam, a shy, unassuming girl from Sweden who has become the LPGA's all-time top money winner, female players' earnings have skyrocketed.
Since the midnineties, Sorenstam has emerged as the top female powerhouse in the sport. She has won more pro tournaments in the new millennium than any other golfer—male or female. She has helped to break golf's gender barrier by playing in Professional Golf Association (PGA) tournaments, making headlines and winning fans worldwide in the process.
Slow and Steady
As a young girl in Stockholm, Sorenstam and her sister Charlotta enjoyed skiing, volleyball, soccer and, most of all, tennis. Sorenstam idolized Swedish tennis star Björn Borg and dreamed of being a pro tennis player. But when she couldn't perfect a winning forehand despite years of practice, she quit the sport.
A golf club had just opened near their house, and the teenage sisters spent their summer days there, playing and working as ball pickers. "It took me a while to fall in love with the game," Sorenstam wrote in her book, Golf Annika's Way (Penguin, 2004). She was often frustrated over poor shots and says she was "a mediocre junior golfer" who didn't stand out among her peers.
Her diligent practice paid off, however, and she began moving up the ranks of the Swedish National Golf Federation, taking lessons from Henri Reis, a top golf instructor. In 1987, she joined the Swedish national team and found a mentor in Pia Nilsson, a Swede and former LPGA player, who was overseeing the federation's women's program. Nilsson coached 17-year-old Sorenstam to a win in the Junior European Championship.
Sorenstam then represented Sweden in a collegiate event in Tokyo, where she caught the attention of University of Arizona coach Kim Haddow, who offered her a golf scholarship. "I didn't even know what the desert was like," she told USA Today, "but I knew I wanted to play golf and I could play there all winter."
Above Par
Sorenstam's first year of college was a whirlwind of victories and honors. She won the NCAA golf championship and was named NCAA All-American and College Player of the Year. In her sophomore season, she placed in seven of the nine competitions she entered, taking the title in four of them.
In 1992, she decided to leave college and go pro; she qualified for the U.S. Women's Open the following year. Despite finishing in 63rd place, she felt she had made the right decision.
Sorenstam eased into the pros, playing mostly in Europe where she placed second four times on the Ladies' European Tour and was named Rookie of the Year. She joined the LPGA in 1994 and that summer garnered the golf world's attention with a second-place win in the Women's British Open. She was consequently named LPGA Rookie of the Year.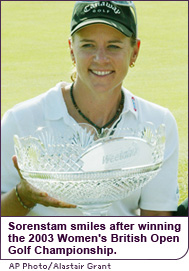 By 1995, Sorenstam had had enough of coming in second. At age 24, she showed golf fans that the rookie had matured by winning the U.S. Women's Open and Sweden's most prestigious sports award—Athlete of the Year. She went on to defend her U.S. Open title in 1996 and steadily ascend to golf superstardom.
"She's got the complete game," LPGA Hall of Famer Patty Sheehan told the Christian Science Monitor in 2003. Whereas most famous athletes are renowned for specialized strengths, Sorenstam is remarkable for her well-rounded game: When she's on, her drives are strong, her aim is precise and her balls stick just where she wants them.
Sorenstam sees golf as "a never-ending challenge," which is why she dedicates herself to rigorous strength training and finding new techniques to improve her game. She also approaches the sport intellectually and has been creating spreadsheets to analyze her game since college.
The Ultimate Challenge
In 2003, Sorenstam received an invitation to play with male golfers at the PGA's Colonial Invitational. Women's and men's pro events had been completely gender-segregated since Babe Didrikson played in the PGA Tour's Los Angeles Open in 1945. The competitive Sorenstam found she couldn't say no.
Her decision caused an enormous commotion. Vijay Singh, the number-seven male golfer in the week leading up to the tournament, told the Associated Press: "She doesn't belong here.... What is she going to prove? She's the best woman golfer in the world, and I want to emphasize 'woman.' We have our tour for men, and they have their tour."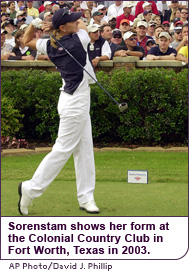 Sorenstam told the LA Times just before the tournament that she simply wanted "to improve [her] game" by playing with the best, strongest athletes. Unfortunately, she didn't place at the Colonial, but she did attract big crowds who admired her grace under pressure. She also used the opportunity to learn, picking up chipping techniques from watching Tiger Woods and rethinking how she shaped her drives after studying other prominent male golfers up close.
True to form, Sorenstam applied what she'd learned and just kept getting better. In fall 2003, she replaced Woods in the Merrill Lynch Skins Game, where each hole, or "skin," is assigned a monetary value. The first woman ever to compete in the event, she placed second to Fred Couples, winning five skins for a total of US$225,000. Couples told GolfWeb, "I think she played terrific golf. I certainly didn't play better than Annika. I just made a few more putts and a couple of lucky shots."
That year, she qualified for induction into the LPGA and World Golf halls of fame. She has been dominating the women's circuit ever since. In fact, she's been dominating women's athletics well beyond the golf course: In 2005, she became the first woman since Babe Didrikson to be named AP's Female Athlete of the Year for three consecutive years.
Green Queen
In 2005, outgoing LPGA commissioner Ty Votaw told the LA Times that Sorenstam's drive to win has provoked an unprecedented increase in prize money on the LPGA tour. Votaw credits Sorenstam's "notoriety, her dominance, her excellence" with the increase in LPGA prize money.
Mandy Moore, the LPGA's vice president of tournament business affairs and player relations, concurs: "Any time someone brings more awareness to the tour, TV ratings go up and attendance increases, and that motivates sponsors to increase their support." After Sorenstam's own winnings, "90 percent of that increase has been distributed among all of the other players," Votaw said.
Thanks to this Swedish import, the LPGA is flourishing and the PGA is seeing some new blood: At least six other female golfers—including South Korea's Se Ri Pak, England's Laura Davies and Hawaii resident Michelle Wie—have competed against men since Sorenstam's appearance at the Colonial.
Since the humble Sorenstam entered the sport, she has continued to elevate her game through sheer determination and practice, rising to the top ranks of the LPGA and adding some excitement to the PGA as well. And just in her mid-30s, this champion of the green still has decades of play ahead of her, with thousands of fans eagerly awaiting her every swing.
:: Jessica Hoffmann