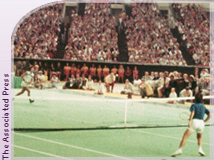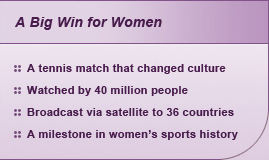 I want [Billie Jean] King. I want the women's lib leader.
—Bobby Riggs, before the match


The historic Battle of the Sexes tennis match that took place on September 20, 1973, was part carnival and part contest, but, in the end, it was all-important to the advancement of women's sports. Billie Jean King, then the reigning women's Wimbledon titlist, took on retired pro Bobby Riggs, 26 years her senior. Held at the Houston Astrodome, the showdown was about saving face. For Riggs, it would be an embarrassment to be beat by a "girl"; for King, a chance to prove that a woman could play every bit as hard as a man.
The Battle Begins
A self-proclaimed male chauvinist pig, Riggs was a retired champion and a member of the International Tennis Hall of Fame. At age 55, he boasted that he could beat any female opponent; an avid hustler, he wanted to do so in a public event. Margaret Smith Court, a top-ranked Australian player, took Riggs up on the challenge. Jittery from his misogynistic trash talk, she was shockingly defeated, 6-2, 6-1, in a match held on Mother's Day, 1973.
The win encouraged Riggs, and his sexist rhetoric continued. He began to bait King to play against him. Politically conscious and active in the Women's Liberation Movement, King felt she had to avenge Court's loss. The 29-year-old agreed to a one-time-only, winner-take-all, best-of-five match. A date was selected and prize money set at US$100,000. (However, both players received US$150,000 to play in the event.) Oddsmakers picked Riggs as an 8-5 favorite to win.
A Spectacle Sport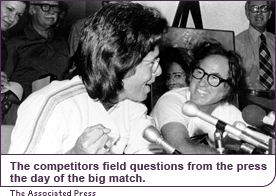 However Riggs would fare on the court, he excelled as the match's promoter. Interest in the event was so crushing that King didn't have time for all the interviews (she turned down 2,000 requests). Riggs was more than happy to make up for it. He sang sexist songs and regularly told the press that women were best barefoot and pregnant. Before the big day, letters of encouragement poured in for King from girls and women. In the interviews she could do, King pointed out economic injustices between the sexes: Women earned less than men for the same job; a woman couldn't get a credit card without her husband's signature.
The event was a spectacle, with elephants dressed in tuxedos in the stands. Even Salvador Dali, the artist, was in the audience—a testament to just how surreal the showdown was. Howard Cosell and King's doubles partner Rosie Casals offered the play-by-play for TV, and Helen Reddy performed her hit song, "I Am Woman," before the game began. Wearing a couture tennis dress, King was carried onto the court by college football players decked out in ancient Egyptian garb. Riggs entered in a rickshaw, escorted by female models. King presented her opponent with a gift—a pig. In return, Riggs offered her a giant lollipop, or sucker.
King dominated the match. Her strategically placed shots ran Riggs ragged. Her powerful returns overwhelmed him, as did the overhead slams she whacked when he attempted his trademark moon-ball lobs. When he employed his arsenal of junk shots, King handled them, too. She defeated Riggs in straight sets, 6-4, 6-3, 6-3.
More Than a Match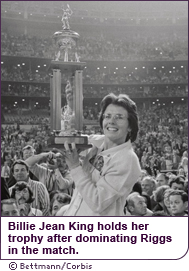 After she crushed Riggs, King declined a rematch. "Women have enough problems getting to compete against each other at high-school and college levels," King said. "Their programs are terribly weak. Why do we have to worry about men?" Rather than set about defeating men, King spent the rest of her career reforming tennis, helping to create the first all-female professional circuit and popularizing the women's game. Thanks in part to her efforts, today three-quarters of surveyed tennis fans say they prefer the women's tour to the men's.
After his defeat, and out of the limelight, Riggs and King maintained an acquaintanceship. In 1995, just before Riggs passed away, she called and spoke with him. Even on his deathbed, Riggs joked about a rematch.
King didn't just win Riggs' respect on that September day in 1973, nor did she just win a tennis match. By winning the Battle of the Sexes she laid the groundwork for generations of women and girls to be taken seriously in athletics. As she later said of her historic victory: "I didn't feel it was a very big accomplishment athletically. But, psychologically and emotionally, it was a big deal. I knew it might provide a springboard for girls and women in sports."
:: woa.tv staff
Read More About the Battle of the Sexes Match