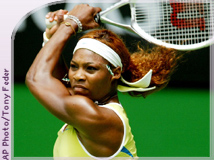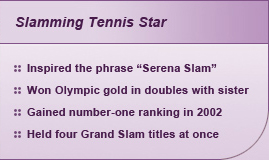 I've never been intimidated by anyone, and unless I'm across the net from someone who's ten feet tall and green, I won't be.
—Serena Williams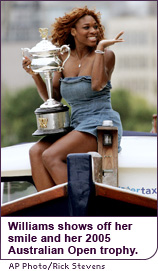 Serena Williams is 15 months younger, 15 pounds lighter and 4 inches smaller than her sister Venus. Those are about the only places the baby of the Williams family comes up short. Serena has won seven Grand Slam singles titles and six Grand Slam doubles crowns, as well as a gold medal for Olympic doubles. In 2002–2003, a new phrase was created to quantify her unprecedented success: A "Serena Slam" means consecutively winning all four Grand Slam tournaments.
Serena hasn't just brought a new level of power and athleticism to tennis, she's also brought the game new fans and big money. She's earned US$15.6 million in tournament winnings and signed numerous endorsement deals, including one for US$60 million with Nike.
Sibling Rivalry
Like her big sister, Serena grew up on public tennis courts in Compton, California. The last of five children raised by devout Jehovah's Witnesses Richard and Oracene Williams, Serena had a racket in her hand before age four. Though Venus and Serena were reared to be tennis stars from early ages, they were also encouraged to avoid the pitfalls of professional sport. Hence, Richard pulled Serena out of the junior circuit in 1991 (she was ranked number one at the time in the Southern California 12 and under category) so she could develop without the competitive pressure and occasional racism she faced as a young tournament player. That year, he moved the family to Florida and enrolled Venus and Serena in a tennis academy run by renowned pro Rick Macci.
In another controversial move, Richard allowed Serena to turn pro in 1995—one year after Venus—at age 14. Her young age kept her out of Women's Tennis Association (WTA) tournaments, so she debuted in a non-WTA tournament. She didn't do well, and took 1996 off to train.
Serena was ranked 304th in 1997 when she beat Mary Pierce (number seven) and Monica Seles (number four) at a WTA tournament in Chicago. In 1998, she saw her first top-20 finish and earned more than US$2 million. By her fourth year as a pro, she had climbed to number four and won her first Grand Slam event (the 1999 U.S. Open).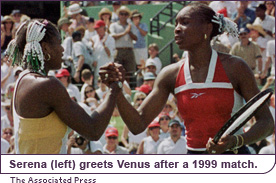 For Serena, the hardest part about being a pro was competing against her sister. When Venus defeated Serena at the 1998 Australian Open, she reportedly said as they walked off the court, "I'm sorry I had to take you out, Serena."
But the balance of power shifted in 1999, when Serena beat Venus in the semifinals of the U.S. Open. A year later, at the 2000 Wimbledon tournament, Serena seemed poised to again defeat Venus in the semifinals. Instead, Venus whipped her little sis, winning the title. Serena did not defeat Venus again until 2002, but she was merciless in her return. During the historic "Serena Slam" in 2002–2003, Serena beat Venus in the finals for each event. When Serena earned tennis' top ranking in 2002, she took it from her sister.
One place the sisters didn't have to battle for dominance was the doubles game. Together, Venus and Serena proved unstoppable: They won six Grand Slams and, in 2000, an Olympic gold medal.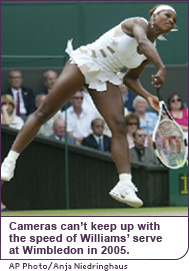 After her triumphant "Serena Slam," Serena's game suffered from a host of injuries and a personal tragedy. In September 2003, Serena's sister Yetunde Price was murdered in a gang-related shooting. The close-knit Williams family needed time to grieve, and Serena stayed off the court for eight months. When she returned, her knees—which had been acting up since 1999—continued to plague her. She was frequently criticized for her lack of focus. But she fought through health problems and proved her critics wrong with a triumphant return at the 2005 Australian Open. She won the tournament and reclaimed the number-two spot. During the semifinals, she proudly exclaimed, "I'm still the top fighter out there."
Star Power
Muscular, fast and strong, Serena intimidates opponents with her fast serves and quick moves to the net. When she's healthy and focused, her game has few, if any, weaknesses. Her strength is also mental: Serena has the confidence of a champion. In fact, her self-assurance and on-court dominance sometimes turn audiences against her. On more than one occasion, she's been booed while playing a home-court favorite. But Serena doesn't play to be popular; she plays to win. And win she does.
:: woa.tv staff