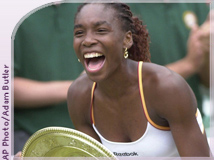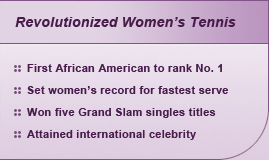 I never thought anyone was better than me. Once you do that, you lose.
—Venus Williams


Mentally tough, physically strong and dynastically dominant, sibling superstars Venus and Serena Williams transformed the sport of tennis. Touted as prodigies, both Williams women took the fast track to fame, winning singles and doubles championships in one Grand Slam event after another.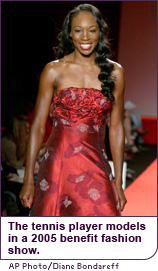 Venus, the elder of the superstar sisters, paved the way. Going professional at 14, she surprised everyone with her powerful serves and groundstrokes. She has been called the Michael Jordan of tennis, and Venus' looks, style and skills have made the sport fresh and hip. Her influence extends well beyond the tennis court; she is a global icon who ushered in a new era of diversity in a sport usually dominated by European stars.
Starting Strong
Home-schooled and raised as devout Jehovah's Witnesses, the Williams sisters grew up in a disciplined environment that would prepare them for the rigors of professional athletics. Their father, Richard Williams, was determined that his two daughters would be tennis stars. Taught to play at age four by her father, Venus practiced daily on the dilapidated public courts of Compton, California. Nearby, drug dealers plied their trade. Despite these impediments, Venus stayed focused, and her confidence and skill began to be noticed. The New York Times ran a story featuring the young tennis player with this prescient headline: "Status: Undefeated. Future: Rosy. Age: 10." Sports Illustrated also profiled Williams, chronicling the abilities of the 5-foot-4-inch, 80-pound fifth-grader who wore her hair in braids and beads. "If you give me a short shot, I will attack you," Venus said in the article, sounding self-aware beyond her years. "I'm not a baseliner who rallies. I try to get the point over with."
Even though Venus was rated number one in the Southern California junior circuit for girls 12 and under, her father made a decision to move the family to Florida. There, Venus and Serena were enrolled in a tennis academy, where they would practice six hours a day, six days a week, for the next four years.
Venus Ascends
In 1995, the Women's Tennis Association (WTA) created a new rule that kept girls under 18 from playing pro in all but a handful of events. Venus managed to slip in before the rule was passed and eight months later won her first professional match at the Bank of the West Classic in Oakland, California. In her next match, she lost to Arantxa Sánchez Vicario, the number-two player in the world. It was the first time Venus had ever lost a match.
Over the next few years, Venus continued to make important wins. In 1997, she was the first unseeded player to reach the U.S. Open final, as well as the first African American to do so since Althea Gibson won back-to-back titles in 1957 and 1958.
Venus' hard work and competitive prowess came to fruition in 2000 with a breakthrough win at Wimbledon (where she beat Serena in the semifinals). Even though she had missed one-third of the season due to tendonitis in both wrists, she won the women's singles, and the next day, joined forces with Serena to win the doubles title.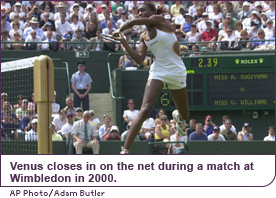 Later that year, Venus won the U.S. Open, becoming the third African American woman to do so, after Althea Gibson and sister Serena. Venus also won Olympic gold medals at the 2000 Sydney Games (in singles and, with Serena, in doubles). She was dubbed Sports Illustrated for Women's Sportswoman of the Year.
In 2001, she defended her titles at Wimbledon and the U.S. Open, and signed an endorsement deal with Reebok for US$40 million (at the time the largest ever awarded to a female athlete). Venus became the first African American woman to earn the top WTA ranking in 2002. That same year, she went to the finals of the French Open, Wimbledon and the U.S. Open—and was defeated in all three events by her sister. And even though she had suffered from an excruciating abdominal strain that caused her to miss six months of play, in 2003 she and Serena won the doubles championship at the Australian Open. By the end of 2004, Venus' tally of victories included four Grand Slam singles titles, six Grand Slam doubles titles and two Olympic gold medals.
Superstar Style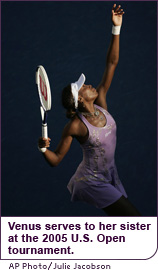 From her first day on the professional court, Venus' style set her apart from other players. With the fastest serve on record (127 miles per hour, or 204.3 kilometers per hour), her powerful shots made the women's game faster and more athletic. Since she was largely taught by her father, her technique is frequently criticized as unorthodox, but it also leaves opponents guessing. Her athletic prowess and steely determination to win have made her an intimidating opponent.
Williams is an African American star in a sport in which participants and audiences are predominantly white. And Venus celebrates her unique status on the court, wearing cornrows and designing tennis outfits that suit her sports-diva status. Her fashion sense and incredible on-court moves have brought her international celebrity. More importantly, she has blazed the trail for her younger sister and for other tennis players from minority backgrounds.
:: woa.tv staff