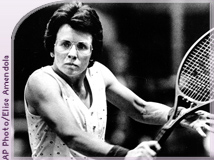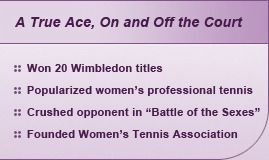 Be bold. If you're going to make an error, make a doozy, and don't be afraid to hit the ball.
—Billie Jean King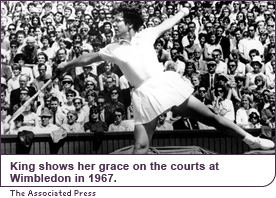 When Life magazine named Billie Jean King one of the hundred most important Americans of the twentieth century, it wasn't just because of her strong serve-and-volley game. King is a leading proponent of gender equality in all athletics and throughout her long career has dedicated herself to social change.
But there's no doubt that King is one of tennis' all-time great champions. On the court, she was a 5-foot-4.5-inch bespectacled ball of energy. When she raced to the net, she scared the hell out of her opponent. Bold in her moves and always highly opinionated, King was a spitfire who started an all-female professional circuit and demanded equal pay for female athletes. Her historic victory in the "Battle of the Sexes" match proved to 40 million viewers that a female player was not only on equal footing with a man, she could easily whip him. The mop-headed player from California single-handedly changed the status of women in tennis, fighting fearlessly for women's equality on and off the tennis court.
A Long Beach Legend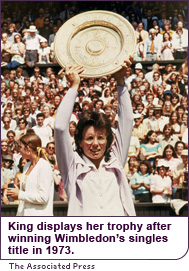 Billie Jean Moffitt was born in Long Beach, California. Her father was a firefighter and her mother a homemaker who later sold Tupperware to help pay King's tennis expenses. As a child, Billie Jean loved sports, particularly softball. Her team won a league title when she was ten years old. The next year, with her family pushing her toward a more "feminine" sport, King took her first tennis lessons. The child matter-of-factly told her mother, "I want to play tennis forever. I am going to be the number-one tennis player."
At 15, King won a Southern California girls' amateur championship. The young player began training with tennis legend Alice Marble and quickly advanced to the final round of a girls' national tournament. After three years in the girls' league, she graduated to women's tourneys in 1960. She utilized her attack-the-net style to play her way into the world's top ten. The next year, King and Karen Hantze became the youngest pair to win the doubles title at Wimbledon, tennis' most prestigious tourney.
It was a win King would repeat many times. She won her first singles title at Wimbledon in 1966. Throughout her career, she dominated at Wimbledon, thanks to the grass courts that favored her serve-and-volley style and to her ability to succeed in the most pressure-packed venues. At 20 Wimbledon championships—six in singles, ten in doubles and four in mixed doubles—she is tied with Martina Navratilova for most wins on the tournament's Roll of Honour.
Grand Dame of the Grand Slams
The burgeoning tennis star and student at Los Angeles State College married Larry King, a law student, in 1965. Her name, now changed on tourney registrations from Moffitt to King, kept ascending in the ranks. She defended her title at Wimbledon in 1967 and 1968, winning both times. The Associated Press named King Woman Athlete of the Year in 1967, and by 1968, she was number one worldwide (during her 23-year career, King reached that apex five times).
After losing her next three Wimbledon singles championships, King returned in 1972 with an awesome performance. That year she won three Grand Slam tournaments. King kept going. "Being number one isn't everything to me, but for those few hours on the court it's way ahead of whatever's in second place," King commented. During her career, King took 13 U.S. Open titles and won singles championships in the French and Australian Opens.
Overall, King won 67 Women's Tennis Association (WTA) and 695 matches. She was also a tireless performer on the Federation Cup circuit, winning 27 consecutive doubles matches and captaining the U.S. team five times. She also coached the 1996 and 2000 U.S. Olympic women's tennis teams.
Breaking Point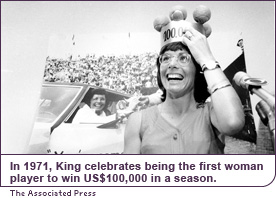 Aside from her awesome accomplishments on the court, King was, and is, a catalyst for change. She popularized women's professional tennis and increased its legitimacy as a sport. In the late 1960s, King became increasingly frustrated with the exclusivity of tennis and was the first woman to join the newly created pro tour. She hoped professional status would earn tennis more respect and get it out of the country-club circuit.
But within pro tennis there were vast inequalities between women and men. King's next campaign was for pay equity and in 1973 she cofounded the Women's Tennis Association, a union created to advocate for women's rights within tennis. King, along with eight other women, took the equality agenda further with the establishment of the first all-women's tour. Named for its sponsor, a cigarette company, the Virginia Slims Tour gave female players a regular professional outlet outside of the traditional majors and better prize money than women had ever made previously. Virginia Slims wins and related sponsorships permitted King to earn US$117,000 in purse money in 1971.
Ever the innovator and advocate for women athletes, King consented to play Bobby Riggs in the historic "Battle of the Sexes" match on September 20, 1973. King crushed the 55-year-old retired player in straight sets, 6-4, 6-3, 6-3. All across America, and beyond, women were ecstatic. The match remains perhaps the most celebrated and remembered in the sport's history.
Moving Forward
Never one to rest on her laurels, King seized on the momentum from the Riggs victory. The following year, 1974, King launched WomenSports magazine; cocreated the Women's Sports Foundation; and, with her husband, formed the coed World Team Tennis league.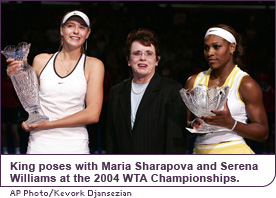 There, King became the first woman in professional sports to coach men, and later the first commissioner to oversee them. King remained a vocal and stanch supporter of women's rights, offering reporters an earful when they interviewed her.
King partially retired from pro tennis in 1975 due to knee injuries and fully retired her racket in 1984. In 2003, when 30th anniversary coverage of the "Battle of the Sexes" saturated the airwaves, King used her TV appearances to talk about contemporary inequalities in sports. Ever the advocate, she told ABC News anchor George Stephanopoulos that "[US] women get $133 million less in scholarships to college. … Globally, women are at the $1 billion mark in sponsorship in professional sports and men are at $20–25 billion." On the Today show, King said that in terms of gender equality, "We still have a long way to go. … I don't know if the young women and men understand that." If they don't, it's certainly no fault of Billie Jean King.
:: woa.tv staff