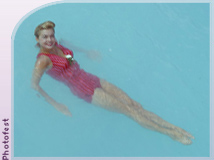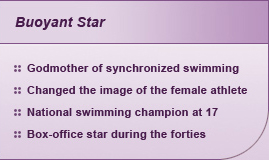 While Gene Kelly danced and Judy Garland sang, Esther Williams swam into the hearts of America with her dazzling smile, stunning aquabatics and wholesome appeal.
—Liz Smith, the New York Post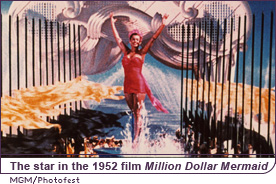 No other woman or man has brought greater attention to the beauty and artistry of swimming than Esther Williams. She discovered her love for the water as a child and emerged as a national champion by the time she was 17. When she left the world of competitive swimming behind in the 1940s, she splashed onto the big screen as a box-office sensation and reinvented the image of the female athlete in America.
Before Williams, the only female athlete to break into films was ice skater Sonja Henie, who at 5-foot-3 was quite petite. With Williams' 5-foot-8, long-legged, broad-shouldered swimmer's body, young women found a groundbreaking athletic role model. "My movies made it clear it's all right to be strong and feminine at the same time," recalled Williams in her autobiography. "A survey showed I received more fan mail from teenage girls than anyone in the business."
Early Struggles
Esther Williams was born in 1922 to Lou and Bula Williams. The fifth child in a working-class family, Williams tried hard to please her parents. When her brother Stanton, a rising film star, died suddenly at the age of 16, overwhelming grief gripped her family. Williams, only a child at the time, became their rock. She recalls, "I made the decision…that I would become my family's hope. I would be there to take care of them. Once I made that decision, I no longer felt eight years old. I said farewell to childhood."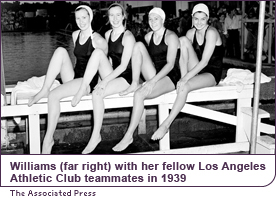 Growing up in sunny Southern California, Williams was never far from the beach. Her love affair with water began when she first stepped into the Pacific Ocean at age eight. A talented swimmer, Williams took lessons from her older sister Maurine and practiced daily. Her hard work paid off: In 1932, she was noticed by swim coach Aileen Allen and invited to swim with the prestigious Los Angeles Athletic Club (LAAC) swim team.
Over the next few years, swimming brought Williams great joy, but her early teenage years were marred when a 16-year-old family friend began sexually abusing the 13-year-old Williams. The abuse finally stopped when, at 15, realizing her own strength, Williams threatened her abuser and he backed down.
In 1939, competing on the LAAC team, Williams demonstrated her superior swimming skills at the Women's Outdoor Swimming Nationals, earning gold medals in the 100-meter freestyle and the 300- and 800-meter medley relays. She went on to qualify for the 1940 U.S. Olympic swim team, but her hopes for Olympic gold were shattered when the Games were cancelled in the face of World War II.
Swimming to Stardom
Soon after, a personal rift with coach Allen caused Williams to quit the LAAC team. This marked the end of her competitive career. Williams left the swimming world behind her and became a clothing model and stock girl for I Magnin, a popular L.A. department store.
Little did Williams know that legendary showman Billy Rose had already noticed her in a LIFE magazine photo, where she was featured as a rising young swimming champion. He was searching for a female to star opposite Olympic swimming champion and screen star Johnny Weissmuller in the San Francisco Aquacade, a musical extravaganza that showcased the talents of hundreds of swimmers and divers. Rose offered Williams the job, and in 1940, she joined the Aquacade, where she was featured as Aquabelle #1 and performed intricate swimming choreography with Weissmuller, Aquadonis #1.
When the Aquacade closed down after a run at the 1940 World's Fair, Williams returned to her job at I Magnin and her new role as wife to medical student Leonard Kovner. But her time in the spotlight was far from over. An MGM executive had seen her in the Aquacade and soon the studio came calling. Tired of show business, she refused MGM's overtures for a year before agreeing to meet with Louis B. Mayer, the head of production. He offered her a studio contract on the spot, and when she decided to accept, Kovner was furious. When his anger turned violent, Williams knew it was the end of their marriage.
Eager to launch the young athlete onto the big screen, MGM set up a screen test for Williams with popular actor Clark Gable. Gable liked her and requested that she costar in his next picture, but Williams did not feel ready yet. She refused, standing up to Mayer by pointing out the clause in her contract that stipulated she wouldn't have to act in a film until she had nine months of training. She dedicated herself to her classes at MGM "University" with the same dedication that made her a swimming champion.
After months of singing, dancing and acting lessons, she made her movie debut opposite another notable actor, Mickey Rooney, in Andy Hardy's Double Life (1942), about a young college student who romances two girls simultaneously. "The popular Andy Hardy series movies were MGM's tests for its promising stars such as Judy Garland, Lana Turner and Donna Reed," noted Williams. "If you didn't make it in those pictures, you were never heard from again."
America's Mermaid
The audience response was wildly favorable to Williams' all-American good looks—so much so that in the middle of shooting Mr. Coed with Red Skelton in 1944, the studio changed the name of the film to Bathing Beauty and gave 22-year-old Williams top billing. Bathing Beauty marked the beginning of an unusual film sub-genre, the aqua-musical—featuring swimming, diving and dance numbers staged in water—that quickly became Williams' trademark.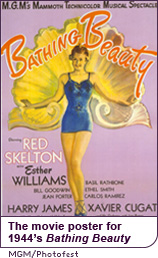 Over the next few years, Williams' career took off, and by the end of World War II she was a GI pinup favorite. She was nicknamed America's Mermaid because she could hold her breath underwater for amazingly long takes and because she enjoyed phenomenal popularity as wartime audiences flocked to her lighthearted, escapist films. Williams remained America's Mermaid for 18 years, appearing in 28 movies, nearly every one including a swimming sequence.
Shooting the films was extremely grueling for the swimmer-actress. Williams estimates that she swam more than a thousand miles while making her movies. She started her 12-hour days with the makeup staff coating her hair in sticky Vaseline and applying a thick coat of waterproof makeup to her face and body. Exhausted, she would often take naps with her legs on the pool deck and her head floating in the water.
In 1945, Williams married radio announcer and singer Ben Gage, whom she'd met at a charity function. The pair had three children—Ben Jr., Kimball and Susan—and Williams managed to work through all three pregnancies.
Unfortunately, the golden age of the Hollywood musical ended in the late '50s, marking a challenging time for the star. Williams tried to expand her dramatic portfolio but audiences wouldn't buy her as a serious actress. She was released from her MGM contract when her last film for the studio, Jupiter's Darling (1955), bombed at the box office. Her marriage to Gage was also going downhill. He had developed serious drinking and gambling addictions over the years, and he also had a weight problem. (He ballooned to 300 pounds.) They divorced in 1959.
Williams married third husband Fernando Lamas, her leading man in Dangerous When Wet (1953), in 1969. The third time around wasn't a charm. Lamas was very controlling and insisted she drop out of the limelight. So, during their tumultuous 13-year marriage, Williams disappeared from the public eye.
The Mermaid Resurfaces
When Lamas died in 1982 of cancer, Williams reemerged into public life, making personal appearances and hosting television specials. In 1985, she married fourth husband Edward Bell, and today they operate the Esther Williams Collection, a line of swimsuits modeled after the ones Williams wore in her films. She also lent her name to the successful Esther Williams brand of swimming pools.
The confidence of being a champion has permeated Esther Williams' life. Her strength of spirit has kept her head above water through both difficult times and great successes. What kept her going through it all was a deep connection to her sport. In a 1997 interview, she remarked that every time she steps into the water, she tells herself, "Oh Esther, lucky you. This is the best you are going to feel all day."
:: Lisa Cooke