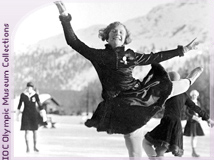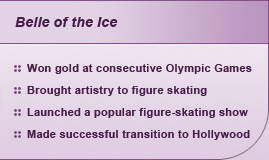 The world never puts a price on you higher than the one you put on yourself.
—Sonja Henie

In 1924, at the first modern Winter Olympics, an 11-year-old girl made her Olympic debut. This young competitor, Sonja Henie, would forever change the world of figure skating.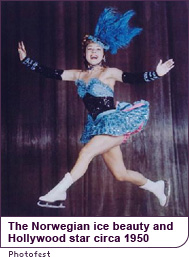 Prior to Henie, figure skating was a sport in which athletic men and women performed basic maneuvers and carved compulsory figures in the ice while dressed in drab-colored tweed and wool. The sport was a straightforward exercise in technique, with little attention paid to spectators or to dramatic presentation. Figure skating certainly wasn't the dynamic combination of athleticism, dance and style that it is today.
Henie—three-time Olympic gold medalist and Hollywood screen star—almost single-handedly made the sport more theatrical, more creative and more popular by challenging conventions and eventually becoming a one-woman ice-skating industry.
The Birth of Cool
Sonja Henie was born in Oslo on April 8, 1912, to a wealthy family. She started dancing ballet, which she called her "first love," at the young age of two, and was first introduced to skating by her brother, Leif, who lent her a pair of his skates when she was around five. It was clear early on to Henie's family that she was destined to be a performer, and figure skating was the perfect sport for her to express her many passions.
Her father, a former world-champion bicyclist, ran a lucrative fur business, and her mother was a ballet fan, so they were incredibly supportive of their daughter's interest in a skating career. Instead of attending school, Henie had private tutors in order to facilitate her rigorous training schedule, which included practicing in the rink several hours a day and taking ballet lessons. Such discipline and dedication made her a fierce competitor.
In 1923, she competed in the Norwegian national championship and won. The following year, she entered the first modern Winter Olympic Games in Chamonix, France. At 11, she blew the judges away with her combination of dance and athletic moves on the ice. One of her moves, a jump into a sit-spin, was particularly revolutionary at the time. Though Henie won third place in the freestyle portion of the competition, her low score in the compulsory segment resulted in her ending in last place overall. Undeterred, the young athlete dedicated herself to further training.
Henie's Golden Age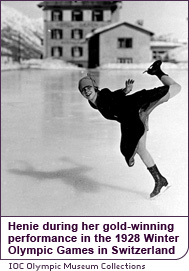 Henie's perseverance paid off. She improved rapidly and won second place in the 1926 World Championships. By 1927, at age 14, she rose to the top of the sport, winning the first of ten consecutive world championships—more than any skater, male or female, before or since.
In 1928, she won her first Olympic gold medal in women's figure skating, and she continued her domination for two more Games, defending her title in 1932 and 1936. She charmed audiences with her captivating choreography and dazzling costumes, becoming an instant international celebrity.
The young pioneer created a theatrical form of figure skating, which combined leaps and spins in a fluid choreography that was synchronized with music, obviously influenced by her years of training as a dancer. She outshined her competitors, who performed basic technical movements accompanied by seemingly unrelated background music.
Showstopper
A petite woman with an athletic figure and a dimpled smile, Henie was ambitious in a way that set her apart from other sports figures of her day. "Sonja was a woman of awesome talent and Napoleonic ambitions," wrote Henie biographer Raymond Strait. Her ability to win every world championship for a decade was an amazing feat in itself, but it was her ability to parlay her athletic prowess into an enduring entertainment career that catapulted Henie to unprecedented success.
Blessed with both charisma and a camera-ready smile, Henie left the competitive skating circuit for Hollywood, making her feature-film debut in Twentieth Century Fox's One in a Million in 1936. A light romantic comedy about a young, beautiful skater in New York, the movie was a box-office success, winning the adoration of viewers and studio execs.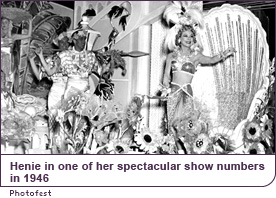 Capitalizing on her Olympic and Hollywood fame, Henie started producing a touring ice show in 1937, with the help of Chicago promoter Arthur Wirtz. Called the Hollywood Ice Revue, it brought her brand of skating to audiences across the United States for 14 years, making the champion skater quite rich and further popularizing the sport she had revolutionized. Every little girl in the country wanted to dance and twirl on the ice like Henie.
The champion skater and accomplished businesswoman went on to star in 12 more films, including 1942's Iceland and 1948's Countess of Monte Cristo, before retiring from the silver screen and dedicating herself to her Ice Revue and television specials about skating.
Ice Queen
The figure-skating world and the world at large lost a gutsy, strong and charming woman when Henie passed away in 1969 from leukemia. Fittingly, her legacy lives on. The Smithsonian Museum in Washington, D.C., has a pair of Henie's white ankle-boot skates on display, and every figure skater who leaps and spins her way to the Olympics has Henie to thank for introducing artistry and drama to the sport.
Through her competitive victories and performances in movies and television specials and the Hollywood Ice Revue, Henie brought figure skating to the world. She danced her way into homes, history books and the hearts of fans worldwide as she changed the nature of her sport forever.
:: woa.tv staff
Read More About Sonja Henie