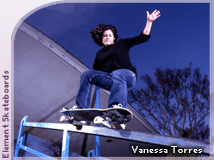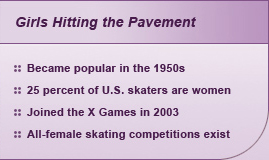 The first skateboards were made of two-by-fours and roller-skate wheels by creative early-twentieth-century American kids—a fitting start for a pastime associated with independent youth, specifically boys. But girls and women have been skating all along, and, since at least the 1960s, women have skated competitively and received endorsements from skate manufacturers.
And in the twenty-first century, more female skaters than ever are earning celebrity status, competing in medal events in popular televised competitions such as the X Games, seeing their names on signature shoe lines and boards and even appearing in popular video games. With the newly formed International Skateboard Federation discussing possibilities for Olympic skateboarding events in 2008, it's quite possible that female skaters will soon have a chance to win Olympic gold.
Riding the Early Waves
Skateboarding's first wave of popularity came in the 1950s and '60s, when the first commercial skateboards were created in the United States to amuse the baby boom generation. The first enthusiasts were surfers in Southern California, where competitions such as the Makaha contest held in Hermosa in 1963 increased the legitimacy of the sport without softening its radical edge, often symbolized by daredevil adolescent males. But boys weren't having all the fun. In 1965, trick rider Pat McGee, the national girls' champion from San Diego, appeared upside-down on the cover of Life, performing a handstand on her board.
There is little known about women's involvement in skateboarding when its popularity ebbed later in the decade (due to a combination of reckless riding, a poor product and rising insurance costs), but there's no doubt that women were on board when the second wave hit in the 1970s.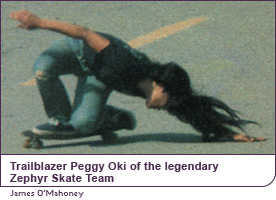 During that decade, the British magazine Skateboard Scene ran a column called "Kate the Skate" to encourage young female skaters. But the scene was still concentrated on the U.S. West Coast. There, Peggy Oki was the only female member of the legendary Zephyr Skate Team and freestylist Laura Thornhill won world titles. (Thornhill was also one of the first females to have her own signature board.) Ellen Oneal appeared in the film Skateboard (1978) and vertical rider Vicki Vickers was featured in the December 1979 issue of SkateBoarder saying, "I'll be damned if we're not out there breaking our necks like the guys." And then there was Kim Cespedes, whose aggressive style paved the way for future female bank riders. Meanwhile, girls and women on the East Coast and in England and Wales were beginning to ride as the sport's popularity grew in their neighborhoods.
By the 1980s (the third wave), girls were occasionally popping up in skate videos, and in 1988, popular skateboard manufacturer Powell-Peralta ran an ad that read, "Some girls play with dolls. Real women skate."
Outside Outsider Culture
Still, females were mostly marginalized within the skate scene. Though skateboarding has long been seen as a subculture for those who flout conformity and question authority, male-dominated skate communities upheld notions about women that kept female skaters sidelined.
Girls were treated more like eye candy than like fellow skaters in magazine ads, and they were referred to as "skate Betties." This kind of treatment hardly encouraged female participation.
Fortunately, by the time skateboarding's fourth wave rolled around in the '90s, riot grrrls' pro-girl messages had traveled from the margins to the mainstream, and skater girls got proactive about demanding their place in an outsider sport that was exploding into popular consciousness.
Grrrls Rule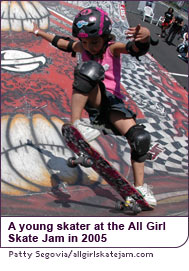 As skateboarding zoomed into the mainstream in the '90s—with network and cable channels covering the sport in the X Games and advertisers using skateboarders as shorthand for "cool"—female skaters began creating skate spaces of their own.
In 1997, skater and photographer Patty Segovia founded the All Girl Skate Jam (AGSJ). The inclusive event—its motto is "all ages, all abilities, all girls"—brings pro and amateur skaters together in national and international tours. Segovia's International Girls Skateboarding Association also organizes all-ages, all-levels skate camps. The manufacturer etnies targets the youth set with its "Skateover, not a Makeover" clinics, where girls six and older learn from pros.
Today, there are several all-female events, including the Gallaz Skate Jam held annually in Melbourne, Australia, the AGSJ International Girls World Championships and the Girls Games. And in 2003, women's skateboarding events finally became medal competitions in the X Games, which now attract women skaters from countries such as Brazil and Australia as well as a whole slew of ladies from Southern California, including fan favorites Elissa Steamer, Cara-Beth Burnside and Jen O'Brien.
With female skaters tearing it up on television and in competitions all over the world, it's no wonder there's been a rise in amateur women's skateboarding. And with females accounting for 25 percent of all U.S. skaters in 2004, according to American Sports Data, participation is hardly limited to teens.
In 2003, suburban mom Barbara Odanaka founded the International Society of Skateboarding Moms. Members, whose ages range from 25 to 80, include a psychologist, an artist, a computer engineer and '70s maverick Laura Thornhill. And these skater moms are encouraging their daughters to ride as well.
Betties Get Branded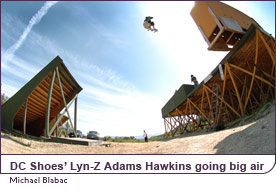 Girls' strong presence in skateboarding is also reflected in manufacturers' increasing attention to their needs. For years, female skaters had no choice but to wear ill-fitting men's skate clothes. Now, with major companies like Vans, etnies, DC Shoes and Gallaz (the first major female-specific brand) creating girls' lines, the sartorial shut-out of female skaters is a thing of the past.
There's also Rookie Skate, the first women-owned and -operated skateboard manufacturer. And in keeping with skateboarding's indie spirit, there's been an emergence of smaller women-owned companies such as Villa Villa Cola, ConCrete Divas and popular label Nikita, owned by the multitalented Icelander Heida Birgisdottir, a skater, snowboarder, surfer and designer.
Like their '70s predecessors (Thornhill rode for Logan Earth Ski), current female pros have landed endorsement deals with major manufacturers such as etnies (Steamer) and Vans (Burnside). Combine that with prize money for ladies' competitions and today's top female skaters are earning a living doing what they love, while keeping alive a long tradition of women in the sport.
:: Jessica Hoffmann
Read More About Skateboarding