Most people are surprised I have a college degree.
—Cara-Beth Burnside
Cara-Beth Burnside is among the most famous female skateboarders and snowboarders in the world, and has been since she started rolling into ramps in the 1980s and shredding the slopes in the early '90s.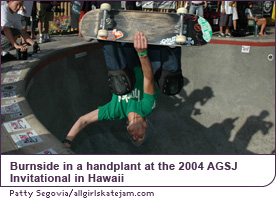 In skateboarding, she's won more than 16 titles in the new millennium at such competitions as the X Games, Vans Triple Crown, Soul Bowl and All Girl Skate Jam, and she was honored as the Female Vert Skater of the Year in 2004 by World Cup Skating (WCS). She has also received worldwide recognition in snowboarding, with top-place finishes at the Grand Prix, X Games and Vans Triple Crown. She won the snowboarding halfpipe event at the 1998 Winter X Games and the skateboarding vert event at the 2003 Summer X Games, making her the only woman to receive gold at both X Games competitions.
An icon to a younger generation of females entering the male-dominated arena of extreme sports, Burnside's popularity and achievements have inspired the creation of more action-sport opportunities for "girls"—as even the mature female competitors call themselves.
Sports Fanatic
Burnside was born July 23, 1968, in a middle-class neighborhood in Orange, California, where she visited her first boarding facility, the Big O Skatepark. By the early '80s, the brief suburban skate craze had dissipated; parks such as the Big O closed due to lack of interest and high liability-insurance fees.
An all-around athlete, Burnside remained physically active despite the decline in popularity of skating, and she took up karate, earning a brown belt. She also played flag football and later honed her soccer skills, eventually receiving a scholarship to join the soccer team at the University of California at Davis in 1989. Two years later, she graduated with a degree in human development, but her passion for skating never left her.
Extreme sports were then beginning to take hold in America, and Burnside happily returned to skateboarding. The scene was more male-dominated than ever, with aggressive sessions fueled by a speed-metal soundtrack. Unfortunately, whatever their prowess, females faced limited opportunities.
Burnside on Ice
Burnside heard that girls were receiving sponsorship deals in snowboarding, which meant career possibilities. So she made her way to nearby Lake Tahoe, sometimes begging early departees for their lift tickets, to learn the ways of the halfpipe.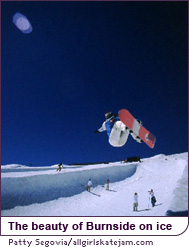 "When she first began snowboarding, one of the head judges told someone that Cara-Beth should stick to skateboarding," says Patty Segovia, founder of the All Girl Skate Jam and Burnside's longtime friend. "That fueled CB's fire to try harder and succeed."
Burnside was a quick study. By 1995, she was ranked the number-two female snowboarder in the world. In 1998, Burnside went to Nagano, Japan, to help inaugurate snowboarding into the Olympic Games. Though she finished in fourth place in the women's halfpipe event, just .2 points behind the bronze medalist, it was a historic moment in women's sports that reminded Burnside there was a place for women in the extreme-sports movement.
An X Games participant since 1997, Burnside regularly finishes in the top eight in Winter X Games superpipe, halfpipe, boarder X and slopestyle events. In addition to her X Games halfpipe gold in 1998, she's medaled in the same event at practically every major women's snowboarding event, including winning gold at the Grand Prix in 1998.
As well as she performed as a snowboarder, and despite the traveling she enjoyed competing on the international snowboarding circuit, Burnside never fully embraced the sport. Snowboarding required extra gear, waiting for ski lifts to get up mountains and, most importantly, snow. Whereas, in skateboarding, all Burnside needed was a board and some asphalt.
Extreme Icon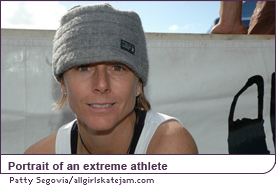 Burnside is known for her tenacity, steely resolve, hours and hours of practicing, fearlessness and feistiness. At just 5-foot-3 and 120 pounds, Burnside likes showing her skills on the street, but she outshines all her female peers on the vert pipe and she has dominated the women's vert since 2000.
She won four consecutive titles at the Vans Triple Crown, five at the All Girl Skate Jam and five at the Soul Bowl. She took the gold at the 2003 and 2005 X Games ladies' vert skateboarding jam. She wasn't able to defend her X Games title in 2004, instead placing second, but in a way she was still intimately linked to the gold. That year, the event's winner was 14-year-old Lyn-Z Adams Hawkins. One of the teenager's professed idols? Burnside.
A great model for young women, Burnside is not only an accomplished athlete—she's a healthy one. To keep herself fit, she stretches regularly, gets semiweekly massages, visits an acupuncturist, practices holistic medicine, doesn't smoke and subsists on sushi, soy and organic vegetables. In addition to her physical training, Burnside also cares for her psyche: She "mind-skates," her term for a meditative state where she imagines, over and over again, how to nail tricks.
Using Her Leverage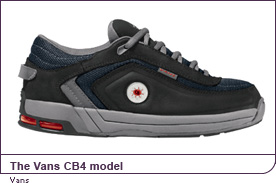 With her popularity in both skateboarding and snowboarding, Burnside has had the unique opportunity to shape both industries, convincing companies to develop more equipment for girls—especially the girls who are serious athletes and aren't just boy-watching Betties.
She has received sponsorship deals with a variety of clothiers and manufacturers, including Vans, Hurley International, Chorus and Independent. Burnside was the first female skater to have a signature shoe, made especially for girls. The Vans CB line, as it is called, features a solar pattern modeled after the tattoo on Burnside's left wrist, and sells at a rate of 150,000 pairs a year. She also has a Flexdex signature skateboard, also girl-friendly, and her name is featured on a number of other products, including a Burnside backpack from Independent and Cara-Beth Burnside Gypsy sunglasses from Velvet Sunglasses.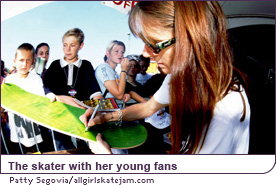 But beyond the sponsorship deals and product endorsements, Burnside's greatest contribution is introducing skateboarding and snowboarding to younger generations. "She paved the way for all the girls and the All Girl Skate Jam," says Segovia, adding that the event was founded specifically to give Burnside a national platform to shine.
Whenever—if ever—she hangs up her wheels, Burnside will leave behind a legacy of inspiration, excellence and equality. Today, girls of all ages ride the formerly boy-dominated streets, slopes and verts.
Do the beneficiaries of her board-bound 'blazing realize all that Burnside has done to ease their path? Yes, says Segovia. "They respect her 100 percent. They understand she was and is the pioneer of girls' and women's skateboarding."
:: woa.tv staff