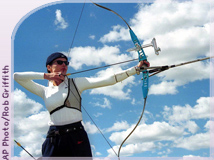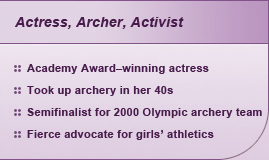 Dream big, set goals and don't let anyone stand in your way of being the best athlete you can be!
—Geena Davis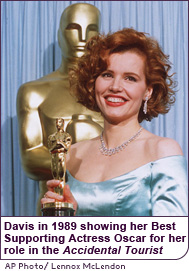 Geena Davis has shown throughout her life that it's never too late to follow your dreams. Her love affair with archery, a sport she didn't take up until her early 40s, took her all the way to the Olympic trials. Using the same determination that made her an award-winning actress, Davis became a nationally ranked archer only two years from the day she first picked up a bow and arrow.
Taking a Bow
Even with her impressive 6-foot frame, Virginia "Geena" Davis didn't actively participate in sports as a girl, instead setting her sights on an acting career. After graduating from Boston University in 1979 with a degree in fine arts, Davis moved to New York to pursue acting, and found that her statuesque figure, which had made her self-conscious during high school, now made her a desirable fashion model. She was signed by the Zoli agency and became a lingerie model at 23—ancient by modeling standards.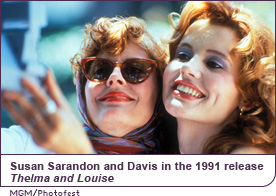 In 1982, director Sydney Pollack spotted Davis in a Victoria's Secret catalog, and cast her in Tootsie alongside Dustin Hoffman. Davis' performance as a soap-opera actress hit a bull's-eye with audiences. Over the next few years, she starred in several short-lived television series, and appeared in the films Transylvania 6-5000 (1985), Fletch (1985) and The Fly (1986). In 1988, she demonstrated her comedic ability in Beetlejuice and earned an Academy Award for her quirky supporting role as a dog trainer in The Accidental Tourist. The Academy recognized her acting skills again in 1991 with a Best Actress nomination for Thelma and Louise, setting her Hollywood career squarely on target.
An Athlete Is Born
It wasn't until 1992 that Davis, training to play a professional baseball player in A League of Their Own, realized her own athletic ability. Playing baseball on the set, she was amazed to find she had a "natural untapped athletic talent."
In 1993, with husband Renny Harlin, Davis set up a production company and took on more physically challenging roles. In 1995, she and Harlin produced the box-office flop Cutthroat Island, with Davis starring as a female pirate. The following year, she took on another action role, this time as a housewife who doubled as a secret agent in The Long Kiss Goodnight. Davis did many of her own stunts in the film. To prep for the role, she learned to shoot handguns in an FBI training program, during which she discovered she had excellent aim.
As Davis watched American Justin Huish win two gold medals in archery in the 1996 Olympics, she was inspired to try the sport, which Huish made "look so elegant and interesting." She took lessons from prominent archery coach Don Rabska and practiced diligently for five hours a day, six days a week. Her dedication paid off: At 42, she placed among the top 32 female archers in the country in the 1999 National Target Championships in Oxford, Ohio, qualifying to compete in the semifinals for a spot on the 2000 Olympic archery team. She placed 24th out of 28 semifinalists, failing to qualify for the Olympics, but it was still an incredible accomplishment for a relative newcomer.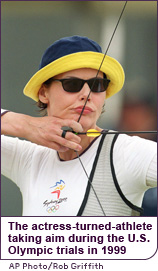 Though she didn't make the Olympic team, she did participate as a wildcard entry in the 1999 Sydney International Golden Arrow Competition, a pre-Olympic dress rehearsal. Davis lost her first round to world-championship silver medalist Alison Williamson of Britain, but she remained philosophical about her participation. "I am humbled by the standard of archers here," she told the Associated Press. "It's not good to beat yourself up—you must just let each arrow go and concentrate on the next one."
Davis' high profile helped to raise public awareness of archery, often looked upon as a second-tier Olympic event, and she benefited personally from the sport. "I just think that the boost in my self-confidence, self-esteem and my image has had a profound impact on my life," she told TheBostonChannel.com in 2002. "Achieving something in the physical world is something you really need to experience to get the benefits."
The actress returned to the big screen as the loving mother in Stuart Little in 1999, and, soon after, she set her sights on real-life motherhood. In 2001, she married her fourth husband, Dr. Reza Jarrahy, an Iranian surgeon who is 15 years her junior. Again defying the odds, at 45, Davis gave birth to their daughter, Alizeh; in 2004, at age 47, she gave birth to twin boys, Kian and Kaiis. Her archery has temporarily taken a backseat to her full life. In addition to being a busy mother of three, Davis recently played the first female president of the United States, as the star of the ABC drama Commander in Chief which aired its final episode on June 14, 2006.
Aiming to Help
Though Davis no longer competes as an archer, she is still involved in the world of sports, as an activist. She is determined that every girl gets to experience the benefits of athletics.
In partnership with the Women's Sports Foundation, founded in 1974 by Billie Jean King, Davis has created a website called Geena Takes Aim. Its purpose is to educate girls and their parents about Title IX and to encourage girls to discover sports early in life.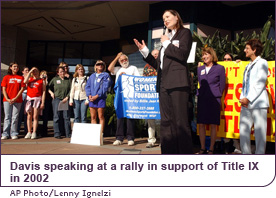 "So many studies have shown the extraordinary benefits for girls and women to play [sports], beyond just the obvious health benefits," Davis commented to TheBostonChannel.com. "Girls are less likely to engage in high-risk behavior, they get better grades, they are more likely to graduate and it vastly improves their self-esteem and their self-image. I don't think it matters what level you achieve, just as long as you are able to have fun and be active."
Actress, athlete, mother, producer and activist, Geena Davis continues to prove that dreams (athletic or otherwise) only grow stronger with time.
:: Lisa Cooke