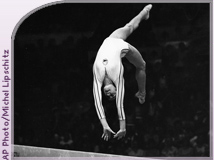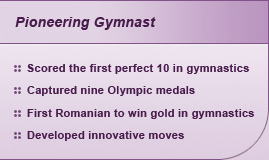 Nadia had no fear.
—Bela Karolyi, Romanian gymnastics team coach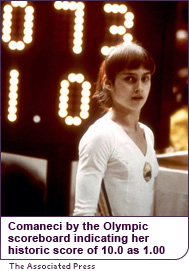 When Nadia Comaneci arrived at the 1976 Olympics in Montreal, she faced a powerful Soviet gymnastic squad led by her idol, Lyudmila Turischeva, and she was competing in her first major seniors' competition. But that didn't stop this pint-sized athlete from becoming the first person in Olympic history to earn a perfect score in gymnastics. She sailed on the uneven bars like a person swimming through air and her floor-exercise performance was so memorable that the song she used for her routine (the opening song from TV's The Young and the Restless) was renamed "Nadia's Theme."
And when the 4-foot-11-inch, 87-pound Comaneci finished on the compulsory bars, the scoreboard could not even accommodate her 10. It posted a 1.00, causing audience members to wonder how such a remarkable performance could earn such a low score. When the crowd caught on, Comaneci was an instant celebrity. She would leave the Olympics with five medals: three gold (all-around competition, uneven bars, balance beam), a silver (team competition) and a bronze (floor exercises). Her gracefully executed leap from the uneven bars made the cover of Time magazine, and fans the world over suddenly knew the Romanian teenager by her first name. Even the scoreboards were changed after Nadia—to accommodate a four-digit score.
The Romanian Dynamo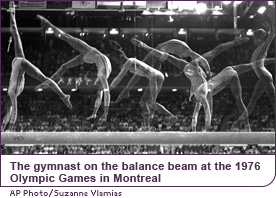 Comaneci was born on November 12, 1961, in the factory town of Onesti, Romania, to car mechanic Gheorghe Comaneci and his wife, Stephania. At the age of six, Comaneci was doing gymnastics with a friend in her school's playground when coach Bela Karolyi spotted her. Karolyi took her to the Onesti sports school to be tested. She strode across the 4-inch-wide balance beam with no fear, far exceeding his expectations.
The young Comaneci was willing to sacrifice whatever it took to accomplish her dream of being a gymnast. She became a dedicated athlete, training six days a week for four hours a day. At seven, she entered her first competition, the 1969 Romanian National Junior Gymnastics Championships, and placed a disappointing thirteenth.
The indomitable Comaneci was back a year later, and obliterated the competition, to take first place. She continued to show her dominance in the sport against her Romanian peers when she qualified for her first seniors' competition in 1973, earning one silver and two gold medals at the Romanian National Championships.
It was at the 1975 European Championships that Comaneci first came to world attention. She won three gold medals and became the youngest gymnast ever to win a European Championship. The next stop was the Olympics, where she would leave an indelible mark on sports history. By the time she left the 1976 Olympics in Montreal at the age of 14, she had received seven perfect 10s and had become the first Romanian gymnast to win an Olympic gold medal.
But Comaneci was just getting started. She led the compulsories at the 1979 World Championships in Fort Worth, Texas, but suffered a setback when she developed an infection in her wrist and took only one swing on the uneven bars in order to avoid disqualification.
When her teammate Emelia Eberle fell off the balance beam, Comaneci was sent back in to compete for her country. Using only one hand, she nailed her routine, scoring a 9.95, which helped her team win the gold. The following year, at the 1980 Olympic Games in Moscow, she added even more wins to her already extraordinary record, racking up two gold medals (balance beam and floor exercise) and two silver medals (all-around and team).
Life After Competition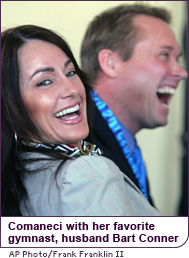 The international gymnastics sensation officially retired from competition in 1984, at which time the International Olympic Committee awarded her the coveted Olympic Order, an award given to an athlete who embodies the Olympic ideal. Comaneci continued to contribute to the success of other aspiring champions by serving as a coach to the Romanian national team, but before long, she wanted more than what her socialist country had to offer. In 1989, Comaneci defected via Hungary to Montreal, Canada, and later to the United States.
On April 27, 1996, she married the American gymnast Bart Conner, also an Olympic gold medalist. The two first met at the Montreal Olympics, where Conner delivered a victory kiss to Comaneci's cheek. She and Conner currently live in Norman, Oklahoma, where they run the Bart Conner Gymnastics Academy.
Comaneci fundamentally changed the sport of women's gymnastics for both fans and athletes. From her gravity-defying somersaults over the high bar to her creativity on the balance beam, she was an innovator with the courage and diligence to break new ground.
:: Nora Pierce
Read More About Nadia Comaneci