All I can say is that I'm glad Abby's on my team because seeing her coming at me with the ball and a head of steam is a scary sight.
—Briana Scurry, U.S. national team goalkeeper
Combining superior size with superb goal-scoring skills and a tenacious, rough-and-tumble style of play, Abby Wambach has established herself as the most feared player in women's soccer. Teammates and the media call her "the next Mia Hamm," and the 5-foot-11, 170-pound Wambach has lived up to the hype on the field, scoring 31 goals in 2004, including the game-winner in the gold-medal match at the 2004 Olympics. This achievement made Wambach the second-highest single-season scorer in women's soccer history.
Sibling Rivalry
The youngest of seven children in an athletic family, Mary Abigail (Abby) Wambach learned early on how to stick up for herself in a crowd. A typical game her older siblings played was sticking goalie pads on their little sister, placing her in a roller-hockey net and practicing slap shots on her.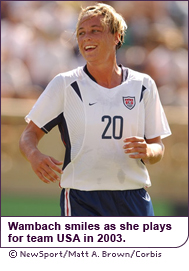 Determined to keep up with them, Wambach says her family "was a great proving ground. It forced me to become super competitive and made me more aggressive, and those traits have come in handy on the soccer field."
The athletically precocious Wambach tacked a poster of Hamm to her bedroom wall and fantasized about following in the soccer star's footsteps. Wambach was so superior to her female soccer peers—she once scored 27 goals in a three-match stretch—that her parents placed her on a boys' team at age nine. "You talk to members of the women's Olympic team and you'll find that was a common experience," Wambach said. "Even Mia played youth soccer on boys' teams. It was the only way she was going to truly develop her skills."
Along with soccer, Wambach played basketball and earned all-state honors in both sports for three consecutive years while in high school. Though numerous major colleges recruited her to play basketball, soccer was her main passion. So she accepted a scholarship to play the sport at the University of Florida. She became a three-time All-American there and led the nation in scoring her senior year (2001).
Serious Scoring
Drafted number two overall by the Washington Freedom team of the Women's United Soccer Association (WUSA) in 2002, Wambach teamed with Hamm for the first time and earned the league's Rookie of the Year award.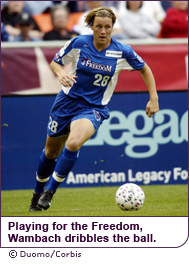 Bigger, stronger and more aggressive than most of her opponents, Wambach bulled her way to a tie for league scoring honors in 2003, while helping the Freedom to the WUSA title.
In 2004, the young hopeful traveled as a member of the U.S. national team to the Olympics in Athens, Greece. Thanks to her engaging personality and penchant for practical jokes, Wambach quickly became one of the best-liked and most respected players on the team. And the forward's popularity with her teammates wasn't hurt by the fact that she consistently played at the top of her game.
When Wambach headed in the game-winning goal from 10 yards out, giving the United States a 2-1 victory against Brazil in the Olympic gold-medal match, she won more than just her teammates' admiration. Thanks to her winning goal, Wambach's photograph appeared on the front page of virtually every major newspaper in America. The young player earned international acclaim, and, on the cusp of Hamm's retirement, the press took notice that another force had arrived to dominate the game.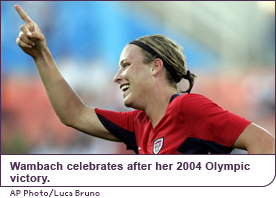 Although the dissolution of the WUSA in 2003 put Wambach's professional career on hold, she continues to shine as a superstar on the U.S. women's national team. No matter what the future holds for professional women's soccer in the States, Wambach continues to train for the 2008 Olympics. "Abby's future is extremely bright, and she's only going to get better," said Hamm. "With her size and strength and aggressiveness, she has an opportunity to have a major impact on women's soccer for years to come."
:: Scott Pitoniak