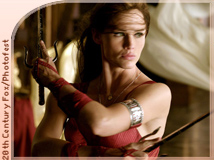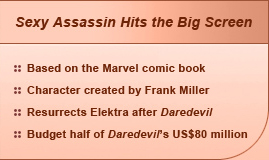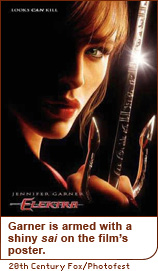 In the early 1980s, writer and graphic artist Frank Miller reinvigorated the failing Marvel comic book series Daredevil by introducing a new character: Elektra, a socialite-turned-vigilante and romantic interest for Matt Murdock, Daredevil's alter ego. Forced to avenge her father's murder, Elektra trains in martial arts and in the process becomes a heartless assassin. Like her Greek mythological namesake, Elektra is a complex character who becomes disillusioned after her father's senseless death. Unlike most other superheroines, she shows a tendency toward evil as much as good.
Elektra is the quintessential antihero, tortured by flashbacks and a mild case of obsessive-compulsive disorder. When Twentieth Century Fox opted to make a film adaptation of Miller's graphic novels, they chose to retain Elektra's noirish nature (and her trademark red costume) for the big-screen version, Elektra (2005). A loose sequel to the 2003 film Daredevil, actress Jennifer Garner returns as Elektra Natchios, and this time the female assassin's screen time is solo—the Daredevil character (Ben Affleck) doesn't even appear in Elektra. The spin-off was a smart move for the studio: Exit polls from Daredevil showed that audiences were more interested in the female killer than in the lead character's triumphs.
In terms of plot, Elektra picks up where Daredevil left off. The icy assassin is resurrected by an evil group of assassins called the Order of the Hand. Under their influence, Elektra's trademark fury drives her into the depths of darkness. An assignment to kill a 13-year-old girl, however, awakens the assassin's good nature. What ensues is a Hong Kong-style action-drama filled with elaborate flying stunts and complicated swordplay.
From Ballet to Braun
Physically demanding roles were nothing new to Jennifer Garner. Famous for her starring role as a CIA agent on the TV series Alias, the 33-year-old actress was familiar with high-flying stunts (she's a yellow belt in Tae Kwon Do, and though she has a stunt double for the show, she occasionally does her own stunts).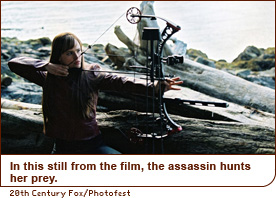 Garner studied ballet when she was an adolescent, and she credits her training for much of her action star success. Ballet was where she learned determination, perfectionism and the value of athleticism. As the actress put it, "We ballet dancers don't go out punching; we go out kicking."
Four years of Alias and a lifetime of ballet, however, didn't make the role of Elektra less challenging. For Daredevil, she and costar Ben Affleck trained at least three hours a day for six weeks, on wire work, weapons and fight choreography. For Elektra, Garner studied boxing and several forms of karate. She also learned how to handle Elektra's trademark weapons: the sai and bo-staff.
An Elektra Complex?
Despite the fact that Elektra was less successful at the box office than studio executives had hoped (grossing only US$24 million in the United States), producers are already planning a sequel. While many critics panned the film for its disjointed plot and uneven tone, the complexity of Garner's character won many fans. Audience members welcomed the martial arts heroine, who fights both real enemies and deeper psychological demons. Also, the film didn't disappoint most longtime fans of the comic book, especially the female fans for whom Elektra served as a role model in the 1970s and '80s.
Elektra also broke new ground for the development of modern action heroines by establishing a heroine who doesn't just fight alongside or against male heroes but exists in an action-based world without them. In fact, Daredevil, Elektra's boyfriend, isn't even mentioned in the film. Her main enemy, Typhoid Mary (Natassia Malthe), is a woman, and the 13-year-old girl who Elektra takes under her sai-throwing tutelage happens to be a pretty skillful fighter too. The film's sleek world is a universe filled with strong women who are firmly in control. In a press junket interview, Garner said: "I wish that I had read Elektra's storyline when I was younger because I think that it is pretty empowering, this woman who is every man's equal, who can take care of herself and who's as smart as any man and stronger than most." And she doesn't fight a man to prove it either; instead Elektra fights another woman—and wins.
:: woa.tv staff