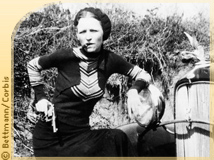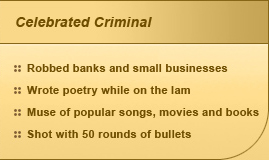 We do not capture alive and try rattlesnakes. We shoot their heads off before they strike.
—Thomas L. Blanton, Texas congressman, on the ambush of Bonnie and Clyde


Bonnie Parker was a wisp of a woman, 4 feet 11 inches tall and just 90 pounds. But that didn't stop her from becoming half of the most celebrated criminal couple in American history. Nor did her small stature deter lawmen from shooting 50 rounds of bullets into her 23-year-old body, transforming a nihilistic young woman into a lead-riddled corpse.
Parker and Clyde Barrow engaged in a spasm of murder and mayhem from 1932 to '34. The lovers, along with other members of what came to be known as the Barrow Gang, were responsible for many crimes, including the deaths of at least 13 people, nine of whom were police officers. Working in the southwestern United States, the gang stole cars; kidnapped; and held up banks, gas stations and mom-and-pop groceries, often netting just enough to keep themselves in guns, ammunition and Kodak film.
Parker and Barrow loved to make photographs, especially at a crime scene. They posed for pictures and effectively served as their own publicists, leaving behind the film so newspapers could publish the photos. These infamous images have become iconic: Parker, holding a gun, still appears as the quintessential femme fatale. Another famous shot shows her and Barrow smoking. Both are hardened but beautiful—a life of crime never looked better.
The Early Years
Parker was born in western Texas and her father died when she was only a year old. The family then moved to Cement City, near Dallas, to live with her grandparents. A pretty girl with strawberry-blonde hair and freckles, Parker did well at school and excelled in creative writing. She was an avid reader of magazines and especially liked the crime pages.
At age 16, Parker took a waitressing job in a central Dallas joint called Marco's Café. Even as a teenager Parker showed a predilection toward "bad boys." She married a crook named Ray Thornton. The year after their nuptials, he was sent to prison for murder.
Enter Clyde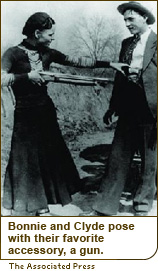 Parker met Clyde Champion Barrow around Christmas, 1929. At the time she was "bored crapless," waiting tables, a young wife with her husband sentenced for life. Barrow was a handsome, baby-faced minor criminal who had done a few hold-ups around Dallas. He was visiting a friend's home when he saw Parker preparing hot cocoa in the kitchen. There was instant electricity between the two, and they quickly became inseparable.
The police soon caught up with Barrow and he spent much of 1930–'32 in prison for burglary. Smitten with the dangerous young man and exploring her zest for adventure, Parker smuggled a gun into the jail, and Barrow escaped for a week. He was captured and returned to prison, where allegedly he committed his first murder. Whatever the case, prison hardened him and Barrow was forever changed by the experience.
As soon as Barrow was released, he sought out Parker. The pair stole a car and committed a few robberies. The police caught Parker, and she wound up serving two months in prison. During her stay, she wrote a poem called "The Story of Suicide Sal," which foreshadowed her most famous poem, "The Story of Bonnie and Clyde."
While inspiring vitriol among law-enforcement officers, Parker and Barrow became folk heroes among the general public, anti-establishment icons in a period when public institutions and wealthy people were reviled.
Newspapers and newsreels chronicled the couple's every move, which mostly included robbing small banks and stores. Parker reciprocated, supplying the media with photos and writings. She and Barrow once kidnapped a police officer and then released him so he could clarify that Parker smoked Camel cigarettes, not the cigars a newspaper had erroneously claimed.
Beginning of the End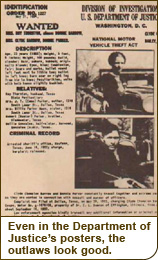 In May 1932, a federal warrant was issued for Parker and Barrow. They were charged with "interstate transportation" for stealing cars. That transgression paled compared to what would follow.
The marauding Barrow Gang included a motley crew of criminals—Everett Milligan, Ray Hamilton and Henry Methvin, to name a few. These men had a simple way of dealing with police: They shot at them. Two officers were slain August 5, 1932, in Atoka, Oklahoma. Soon after, two more perished in Missouri. Immediately after that, Barrow crashed a car and Parker's leg was pinned under the vehicle. The gas tank was pierced, and a fire started. Parker's leg, arm and face were burned. The skin wounds healed, but the leg didn't. Parker walked with a limp for the brief remainder of her life.
The feds put together a list of allegations against Barrow, labeling Parker an accomplice. It was a gruesome travelogue: murder in Hillsboro, Texas; robberies in Lufkin, Texas; kidnapping in Carlsbad, New Mexico; auto theft in Victoria, Texas; attempted murder in Wharton, Texas; murder in Joplin, Missouri, to name just a few.
Bonnie's Sensitive Side
Parker and Barrow may have been mass murderers, but they had soft spots for family. Eschewing danger, the gang members regularly sought out their relatives for friendly visits. Seventeen days before their deaths, Parker and Barrow met with their parents. Parker spoke of her impending death: "Now Mama, don't get upset ... It's coming. You know it. I know it."
It was at this time that Parker gave her mother her poem, "The Story of Bonnie and Clyde." The long poem was published in Dallas' Daily Times Herald on the day of Parker's death and revealed the outlaw's supreme self-awareness of her plight:
"They don't think they're tough or desperate / They know the law always wins / They've been shot at before, but they do not ignore / that death is the wages of sin."
Blaze of Glory
It wasn't long before Parker's predictions came true. Sold out by a fellow Barrow Gang member, the famous outlaws died in an ambush on May 23, 1934. Former Texas Ranger Frank Hamer and five fellow troopers hid among the trees on Sailes Road, outside Sailes, Louisiana. Parker and Barrow were en route to meet up with their gang. They traveled in a beige 1934 Ford.
The officers were in place; they blasted away with Browning automatics. The car was pocked with holes. Barrow slumped over, dead. Police opened the passenger-side door and Parker fell out, also dead. A trooper later recalled a waft of perfume blending with the smell of gunpowder. A search of the car turned up three rifles, two sawed-off shotguns, nine pistols, three thousand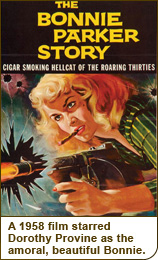 rounds of ammunition, a saxophone and a roll of undeveloped film.
Crowds gathered at the site of the incident, hoping to collect souvenirs. Twenty thousand people attended Parker and Barrow's funerals. The shot-up Ford went on display at state fairs; the morbidly curious paid a quarter to see the "death car." Everyone seemed proud of the pair—even the jilted. Parker's husband Roy Thornton, still jailed, said, "I'm glad they went out like they did. It was much better than being caught."
Bonnie and Clyde continued to capture the public's imagination long after their lives on the run ended. Hollywood made a number of movies about the pair, including 1967's Academy Award–winning Bonnie and Clyde, starring Faye Dunaway. Seven decades later, Bonnie and Clyde still blaze brightly, a Great Depression Romeo and Juliet—with guns.
:: woa.tv staff
Bonnie Parker Selected Sources