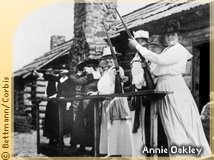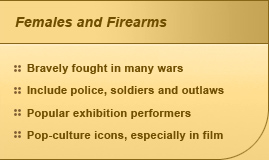 It is only a question of time when to be a skilled markswoman will be numbered among the latest achievements. And not only will it be a creative sport, but a step towards women's independence.
—Mrs. E.B. Belknap, The American Shooter magazine, 1916


It is April 1898. U.S. president William McKinley paces his office, pondering a difficult decision. An inveterate smoker, McKinley takes a long draw from his cigar, then sighs as he considers how heavily Cuba is weighing upon his mind. In recent years, he has become obsessed with Havana cigars, and his doctors have warned him to cut back. But that's not why he's thinking about Cuba. He's worried about the possibility of war.
He has issued an ultimatum to Spain, demanding that the country end its colonial rule of Cuba and relinquish its holdings in the New World. Thus far, the Spanish have refused his request, and now McKinley must decide whether to use military force to secure Spain's withdrawal from Cuba.
An aide enters the room, carrying a letter from a woman celebrity. McKinley opens it, looking forward to a genteel distraction from his weighty deliberations.
The letter does not take his mind off of the impending crisis. Nonetheless, it floors the 25th president of the United States.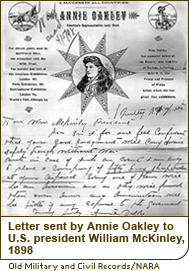 Dear Sir,

I for one feel confident that your good judgment will carry America safely through without war. But in case of such an event I am ready to place a company of 50 lady sharpshooters at your disposal. Every one of them will be an American, and as they will furnish their own arms and ammunition, will be little, if any, expense to the government.

Very truly,
Annie Oakley
Annie Oakley was a celebrity entertainer, famous around the world for her sharpshooting exhibitions. She was also a lifelong American patriot, and offered her shooting services to the U.S. government not just during this conflict but also at the start of World War I. Both times, she proposed a regiment of female volunteers, trained and ready to shoot. Both times, her offer was declined.
Though the U.S. government didn't accept Oakley's proposals, skilled markswomen have used their firearms throughout history for defense, sport and war. Today, female sharpshooters can be found in the military, on both sides of the law and as competitors in various shooting sports. Whether she's in a hunting expedition or an Olympic event, a SWAT team or a guerrilla cell, a markswoman is any trained shooter who has honed her skills and developed excellent aim.
Nobody's Victim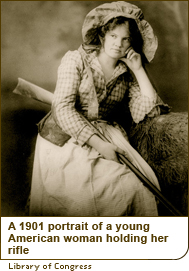 Occasionally, European women in the sixteenth through nineteenth centuries settled their disputes by dueling with pistols. In Colonial America, seventeenth-century pioneer women took up arms to defend their homes. The threat of attack from other settlers and neighboring Indian tribes as well as the necessity of hunting for food made guns a crucial tool in settlers' lives. Early diaries and probate records show that some Colonial women not only owned guns but were highly skilled at using them.
Today, according to Caitlin Kelly, author of Blown Away: American Women and Guns (Pocket Books, 2004), 8.5 million of the 17 million U.S. women who own guns purchased them for self-defense purposes. Groups such as the Second Amendment Sisters and AWARE consider the right to bear arms a women's rights issue, arguing that skilled gun use can equalize the struggle between a woman and a bigger, stronger male assailant. Other women's rights advocates believe that the right to possess firearms hurts women more than it protects them: In its brief on violence against women, the National Organization for Women (NOW) noted that "in 2000, for every American woman who used a handgun to kill an intimate acquaintance in self-defense 443 women were gunned down by an intimate acquaintance." Still, many believe that gun ownership and shooting skill are ways for women to stop being victims and protect themselves from attackers—much like their pioneering foremothers did in the American frontier.
Shooting Shows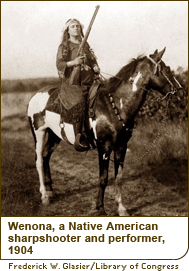 Wild West women who shot guns for survival piqued the popular imagination. By the mid-1800s, women such as Martha Maxwell, a crack shot known as the Colorado Huntress, and Calamity Jane, a famous Western female sharpshooter, were well known for the way they handled firearms.
America's fascination with the Wild West gave rise to one of its first popular spectator sports: sharpshooting exhibitions. Probably the most famous sharpshooter in history was the aforementioned Annie Oakley, who traveled with Buffalo Bill's Wild West and wowed 50,000-member crowds with her shotgun, rifle and pistol work.
Shoot to Kill
Female shooters haven't been limited to the stage or domestic sphere. Women around the world have taken up arms not only to defend their homes or entertain crowds but also as members of armies, police forces and revolutionary organizations.
Named after a Revolutionary War heroine, the Nancy Harts was an all-female Confederate militia during the U.S. Civil War. The 40 members met regularly for target practice with muskets, shotguns and pistols.
During World War II, Russia trained women for sniper brigades like the one Rachel Weisz's character joins in the film Enemy at the Gates (2001). In Britain, Winston Churchill's Special Operations Executive (SOE) included 3,000 women operatives who trained at the SOE shooting range. Agent Pearl Witherington was described in reports as "probably the best shot (male or female) we have yet had." Even Queen Elizabeth (reigning Queen Elizabeth II's mother) and the rest of the ladies in the royal household were trained to be good shots in case German forces arrived.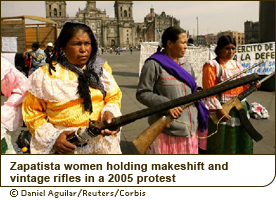 Over the last several centuries, female fighters have used firearms to support resistance efforts worldwide. In 1998, nine women armed with AK-47s fought Taliban forces during a raid on the village of Qalia Khoja. The women killed many of the attackers and forced the rest to retreat. Groups such as the Irish Republican Army, the Basque separatist group ETA (Euskadi Ta Askatasuna), the Mexican Zapatistas and the Colombian left-wing group FARC (Fuerzas Armadas Revolucionarias de Colombia) have trained and used markswomen for years.
Gun Crazy
Aside from their real-world participation in wars, uprisings and law enforcement, markswomen are also a staple of literature and film. Iconic images of female shooters with deadly aim pervade pop culture in films such as La Femme Nikita (1990), Thelma and Louise (1991) and Mr. and Mrs. Smith (2005). As French filmmaker Jean-Luc Godard famously commented, "All you need for a movie is a gun and a girl." While the image of a woman brandishing a gun interests audiences, an actual markswoman holds considerably more influence: The shots she fires hit real targets.
:: Lisa Cooke
Markswomen Selected Sources