Whenever I get to a low point, I go back to the basics. I ask myself, "Why am I doing this?" It comes down to passion.
—Lyn St. James


Maxine Cornwall didn't dream of her daughter speeding around a racetrack, but she did inadvertently help make it happen. In the early 1960s, Lyn St. James (born Evelyn Cornwall) fell in love with automobiles in the passenger seat of her mother's car. Maxine, whose mobility was limited due to a childhood case of polio, loved cars and taught her daughter how to listen to an automobile, how to feel its kinks and ride out the smooth spots. Two decades later, St. James became a record-setting race-car driver.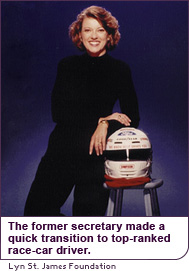 St. James holds 31 speed records and was the first woman to drive faster than 200 miles per hour on a closed course (she hit 225). She was also the first woman to win a professional road race driving solo and the first woman to win the Indy 500 Rookie of the Year award (and the second woman to race in the Indy 500). She has won drag races, stock-car races and IndyCar races. Beyond her own barrier-breaking career, she has trained other women for the driver's seat through her nonprofit foundation. There's no stopping this speed queen.
On the Fast Track
Naturally athletic and adoring of automobiles, St. James drove in her first drag race as a teenager. A male friend challenged her to try and one-up his results. To her friends' surprise, the 17-year-old St. James won a trophy.
"I came home and my mother was horrified. 'You are never going to do that again, young lady,' she told me," says St. James. Maxine Cornwall wanted her daughter to pursue a more conventional path. After all, in 1964, women were not even allowed to cross Gasoline Alley. Women could watch, but the car handling was reserved for men.
St. James settled for a career as a secretary and taught piano lessons on the side. Nevertheless, she couldn't shake her love of speed; in 1970, she married amateur racer John Carusso. The couple moved from Cleveland, Ohio to Florida, and St. James realized that her goal was to be behind the wheel. "I just never forgot that feeling," she remembers. "It's what I wanted to do."
In 1973, she joined the Sports Car Club of America (SCCA), completed two of their drivers' schools and began competing in local club races. By 1976, she'd won the SCCA Florida Regional Championship; she advanced to the national championship the following year. She soon realized she needed better equipment and more resources to win. It was time to go pro and get sponsors. So 32-year-old Evelyn Cornwall changed her name to Lyn St. James, gave up the secretarial gig and became a professional race-car driver.
The Road to Indy
In her first professional season, St. James finished second in the International Motor Sports Association's American Challenge series and won its Top Woman Driver award. While she was making great strides on the track and finding sponsors, her marriage to Carusso ended. (St. James married Roger Lessman in 1993.)
"Racing requires amazing resources," explains St. James. "You need technical, mechanical and human resources to get the vehicle prepared. And you have to build the team." Building that team takes sponsorship and confidence, two things that St. James accrued in spades. "Winning," she laughs, "did a hell of a lot for my confidence." Winning also helped St. James attract corporate sponsorship. In 1981, she joined the Ford Motor Company's motor-sports program. She won her first professional race in 1985, becoming the first female to win an IMSA North American road race. The next year, she won the GTO Team Drive class of the 24 Hours of Daytona marathon. (She won the same race again in 1991.)
With all the accolades, she decided to switch from stock cars to IndyCars in 1988, and set her sights on the prestigious Indy 500. Only one woman, Janet Guthrie, had competed in the race. But St. James wasn't daunted by sexism on the track. "When you are truly passionate about something, the hurdles are peripheral," she says. "Or you can try and fix it. And the only way I can fix it is by beating them." There was no better place to beat them than the Indy 500.
Racing Forward
In 1992, St. James qualified for the Indy 500; the 45-year-old woman finished 11th and became the first woman ever to earn the Indy 500 Rookie of the Year award. She qualified six more times after that. In 2000, when she competed in her last Indy 500, 53-year-old St. James was the oldest driver in the race.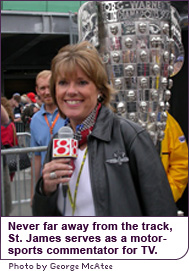 St. James retired from IndyCar racing in 2001. But retirement didn't mean walking away from the track. She founded the Lyn St. James Foundation to educate women race-car drivers. In 2003, she organized the first annual Women in the Winner's Circle forum, a conversation between 23 female race-car drivers and representatives of all forms of auto racing. The historic event aimed to promote women in motor sports, not just as competitors, but also as engineers, managers and owners.
St. James' side projects include running an auto-parts company and serving as a motor-sports commentator for several TV networks. She served as president of the Women's Sports Foundation from 1990 to 1993, and travels the world encouraging girls to consider automotive careers.
"We need more women influencers," she says, "and one of the ways to do that is to support them and encourage them to come out and race. There has been a 400 percent increase in the girls' participation in the soapbox derby in the past eight years ... Thanks to Title IX, moms and dads are saying, 'Hey, it's okay for my little girl to do this sport.'"
St. James' achievements prove that not only is it okay for girls to be in the driver's seat-they belong there.
:: woa.tv staff
Read More About Lyn St. James