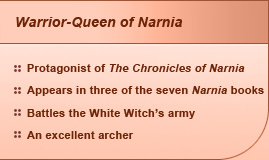 Susan is the second-eldest of the Pevensie children in The Chronicles of Narnia, an award-winning series of children's books by British author C.S. Lewis. In these biblical allegories, the Pevensie children befriend the lion Aslan, a great spiritual leader and Christ figure who battles the evil forces trying to conquer a fantastic land called Narnia.
In the second book of the series, The Lion, the Witch and the Wardrobe, Susan is introduced as a caring older sibling who suggests that the children bring coats on their adventure in snow-covered Narnia. Once inside the mythic realm, her good deeds earn her the title Queen Susan the Gentle.
As friends of Aslan, Susan and her siblings become heroes who battle to protect Narnia from the White Witch. Susan receives two gifts to aid in the mission: a special horn and a bow equipped with arrows that shoot unerringly. Susan uses the bow in the great battle that drives the White Witch out of Narnia.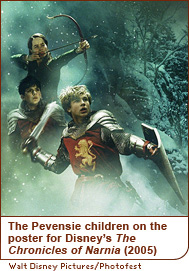 By the fourth book, Prince Caspian, Susan's reputation as an archer is renowned. She saves the day by keeping villains away with her arrows and rescues Trumpkin, the loyal Red Dwarf, by knocking one of his captors into the water with a sure shot. Later, she wins a shooting match by hitting an apple squarely from a tree branch. Prince Corin, a fellow from a neighboring kingdom, develops a fierce crush on Susan and describes her as "an excellent archer." In this book, Susan becomes a full-on warrior-maiden who cannot be conquered—especially by the deceitful Prince Rabadash, who wishes to marry her.
God Save Queen Susan
At the end of Prince Caspian, Aslan informs Susan and her brother Peter that they are too old to return to Narnia. The two characters do not appear in the next three books. However, Susan does merit a mention in the last book, The Last Battle, when readers learn that Susan is "no longer a friend of Narnia" because she's interested in lipstick and nylons and being grown up. In the series, the girl's sexual maturity means the end of her role as warrior-maiden. Susan's final banishment occurs because she is not with her family when they are killed in the train crash that frees her siblings to remain forever in Narnia, Lewis' allegorical heaven. Instead, Susan, a former warrior-queen, must grow up as a traditional woman.
:: Maria Alexander